The gig economy is well and truly here. Businesses can leverage this practice to fill key job roles without the tedious and resource-intensive conventionally hiring process. At the same time, a freelancers can leverage it for selling their products, skills and making money.
Fiverr is a site that acts as a digital service connecting many sellers with prospective employers. From graphic design to internet marketing, you can offer and find and service on the marketplace. Fiverr also takes care of key logistics for registered users, like letting buyers pay freelancers securely.
So, if you've ever wondered "How does Fiverr work?" and whether it's a good choice for your career or business, this Fiverr review is for you.
What is Fiverr? How Does Fiverr Work?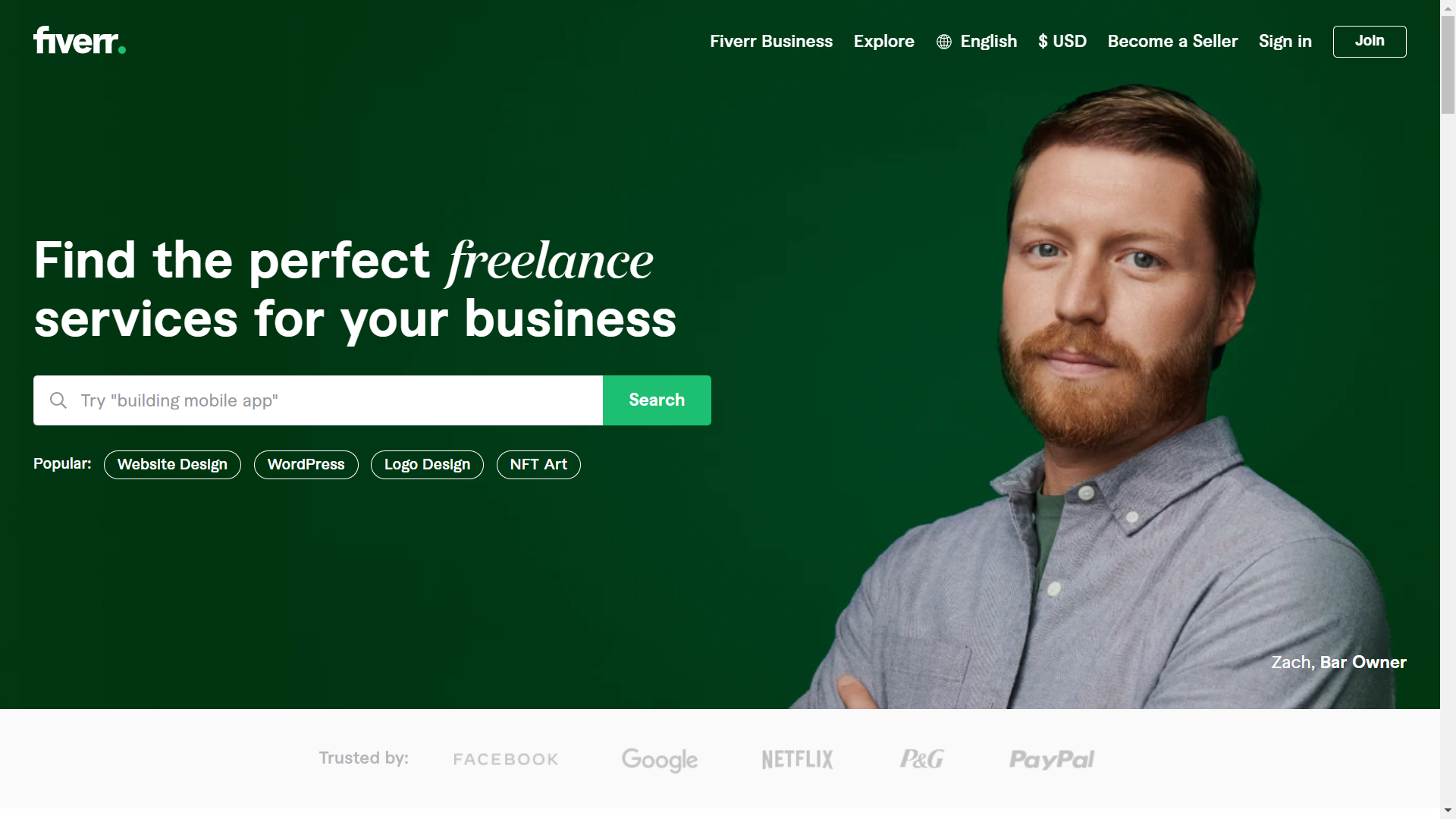 The Fiverr website acts as an online marketplace where freelancers, or "sellers" can offer their digital services and buyers, or "employers," can order it or their projects. The website launched in 2010 and grew so fast that by 2012, over 1.3 million gigs were offered on its marketplace.
Whether it's graphic design, web design, web development, or even digital marketing, you can find professionals willing to do pretty much any skilled job. As an online platform, Fiverr is helping both employers and freelancers take advantage of the gig economy.
Fiverr is somewhat unique in that it acts as something in between a freelancing platform and an e-commerce marketplace.
Fiverr also provides the tools for freelancers and buyers to communicate via messaging, keep in touch for future projects, and facilitate payment between parties on the site.
Customer Support & Community
The platform offers a huge amount of information and support to buyers and sellers. You can contact their support team 24/7. And, there is a huge amount of documentation, FAQs, self-help resources, and even training materials for both parties.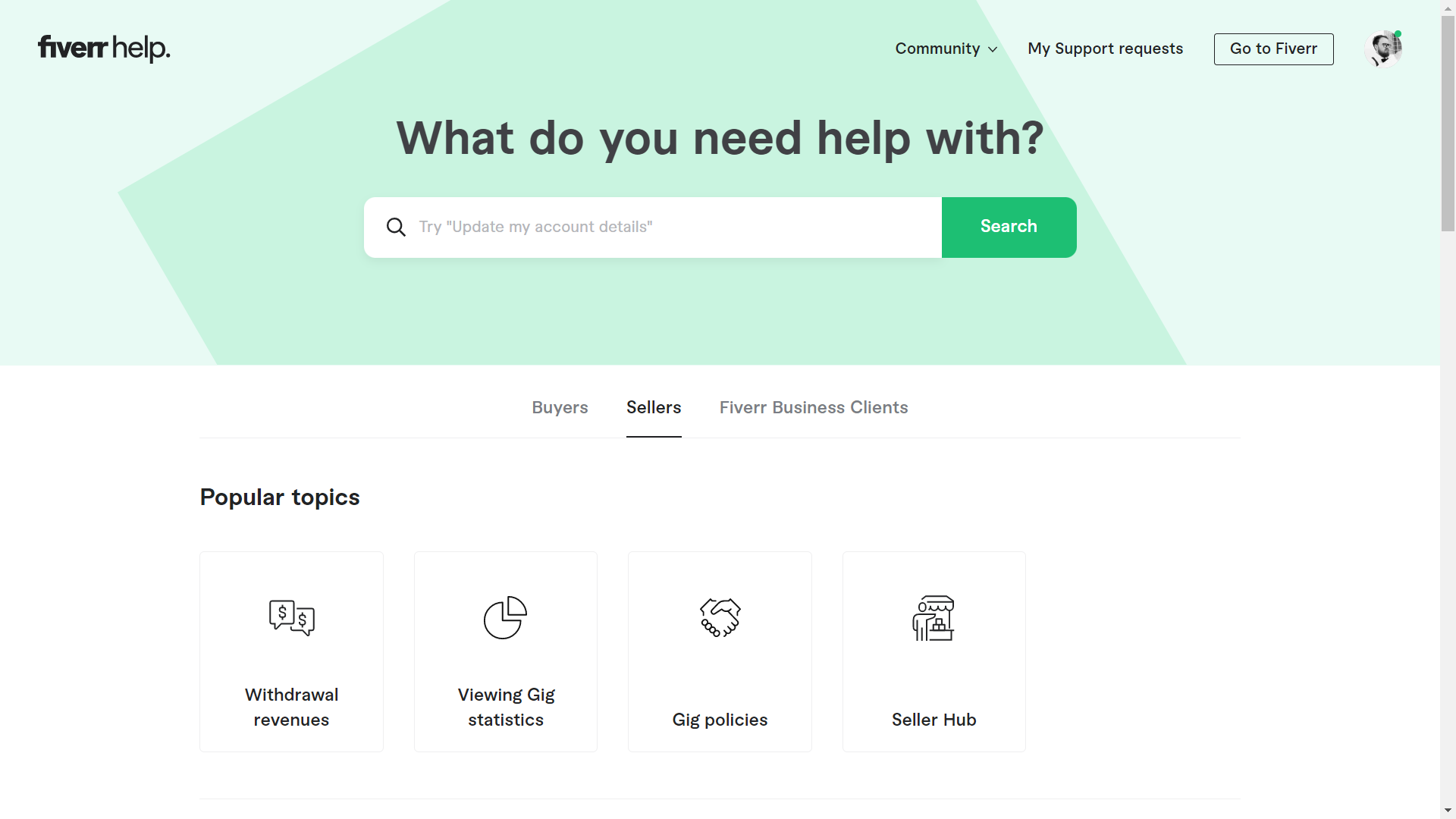 There is also a very active community with virtual events to attend: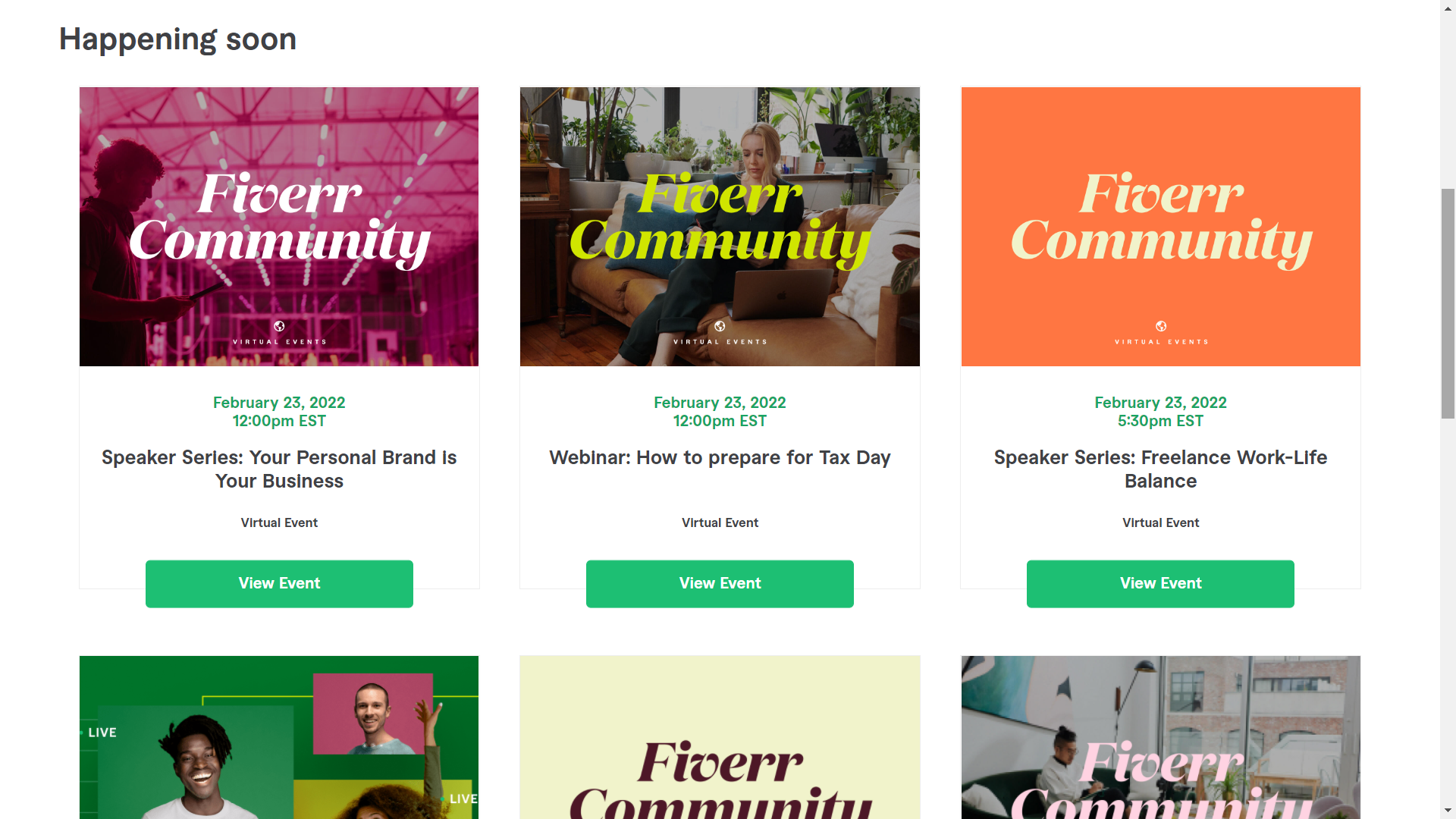 Fiverr Pros and Cons
Pros
Professionals create and sell their own "Gigs"
Professional hiring and human resources assistance
Easy to use platform
Plenty of gig categories and subcategories to choose from
Specify and filter by the delivery time
Link and share a job on social media
Cons
High 20% service fee
Buyers/employers cannot list jobs
Fiverr for Sellers – Create and Post Your Own Digital Services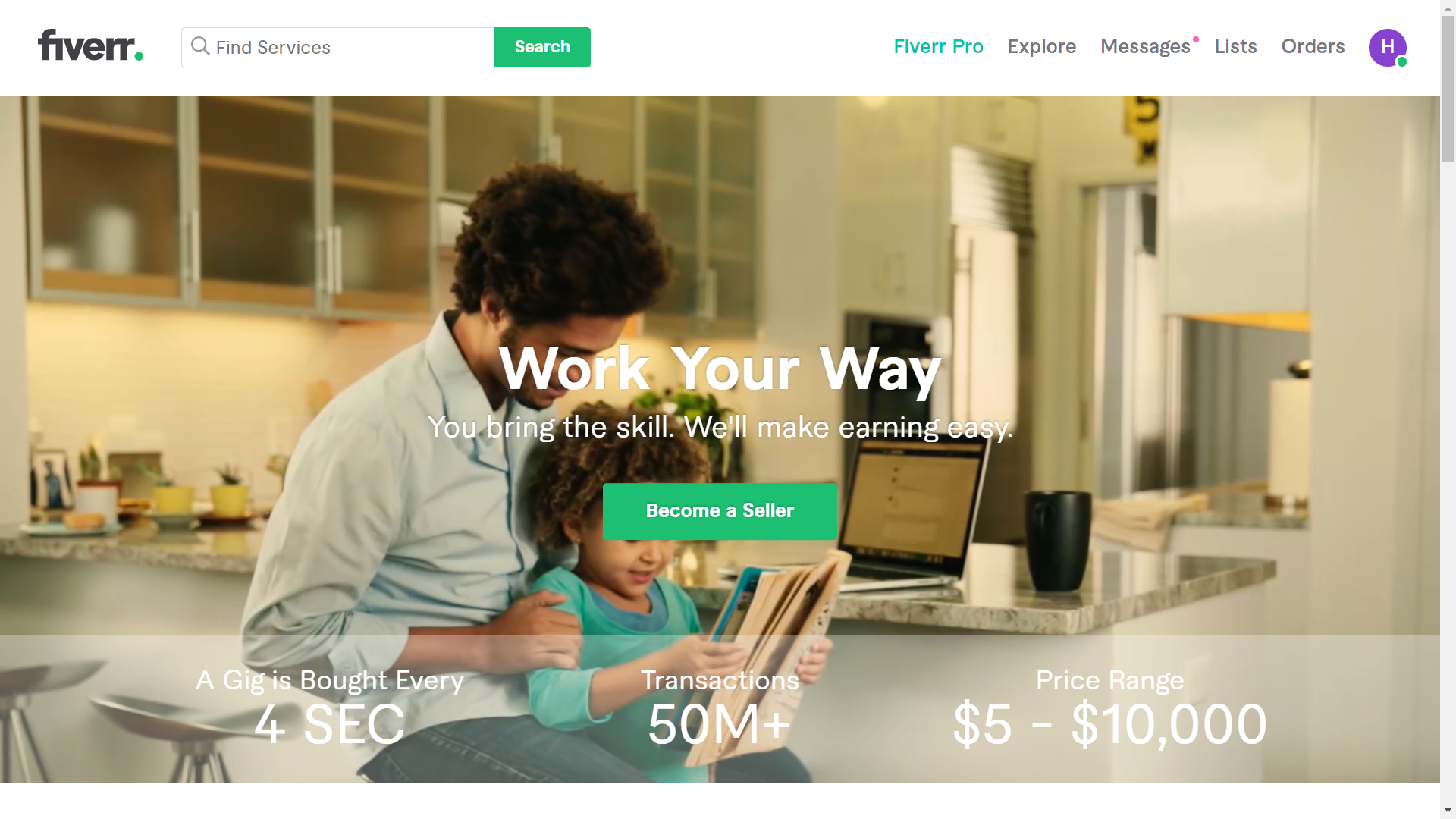 Fiverr is one of the few platforms that really encourage freelancers, or "sellers," to work on their own terms. As a seller, you create "gigs" which are pre-packaged jobs clients can look for and "order" from you. You set the parameters of the work, including the rates and extra services offered.
Other than that, you have a simple, yet intuitive dashboard, to manage your gigs, orders, recurring customers, analyze your earnings, have conversations, etc.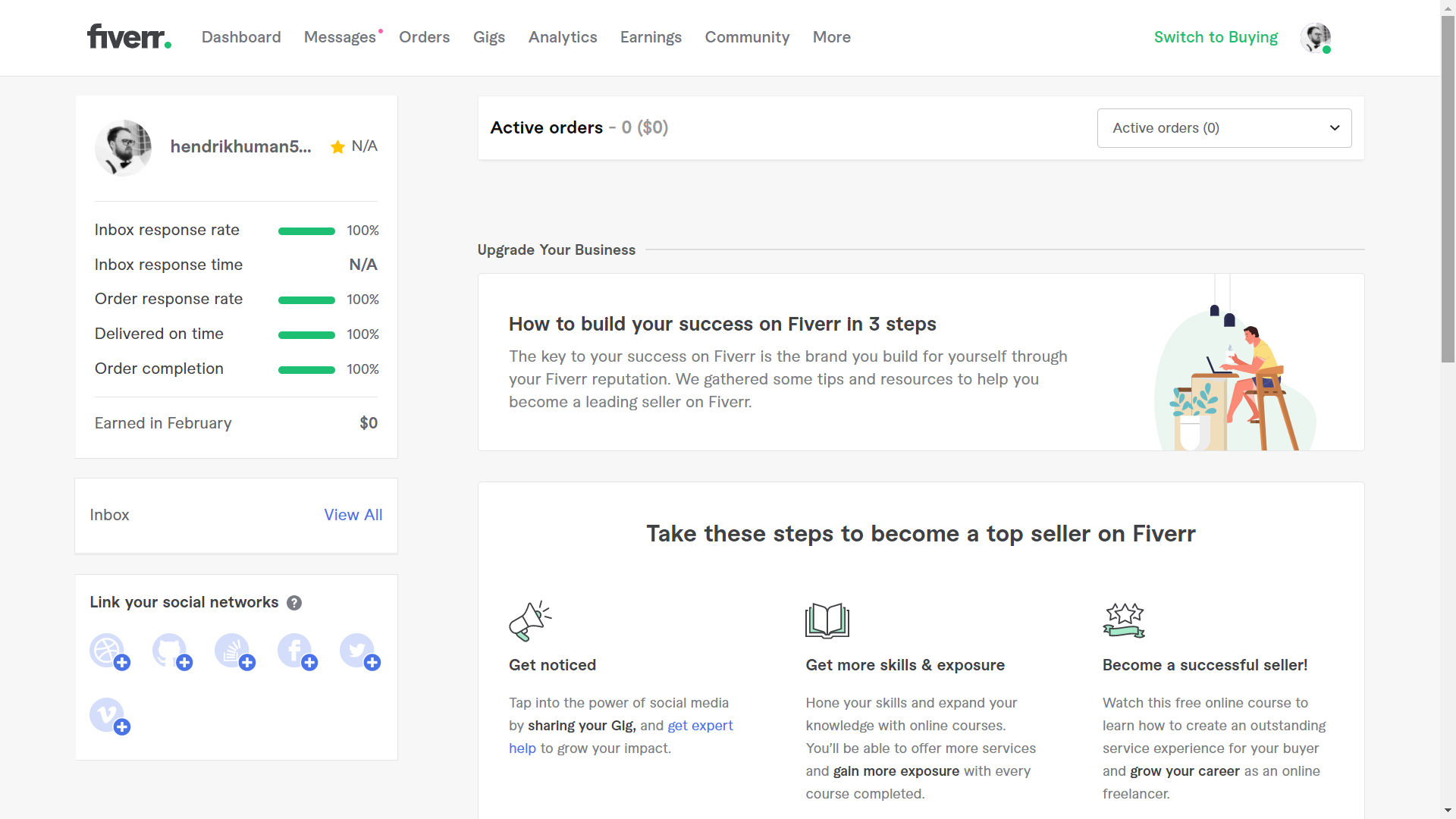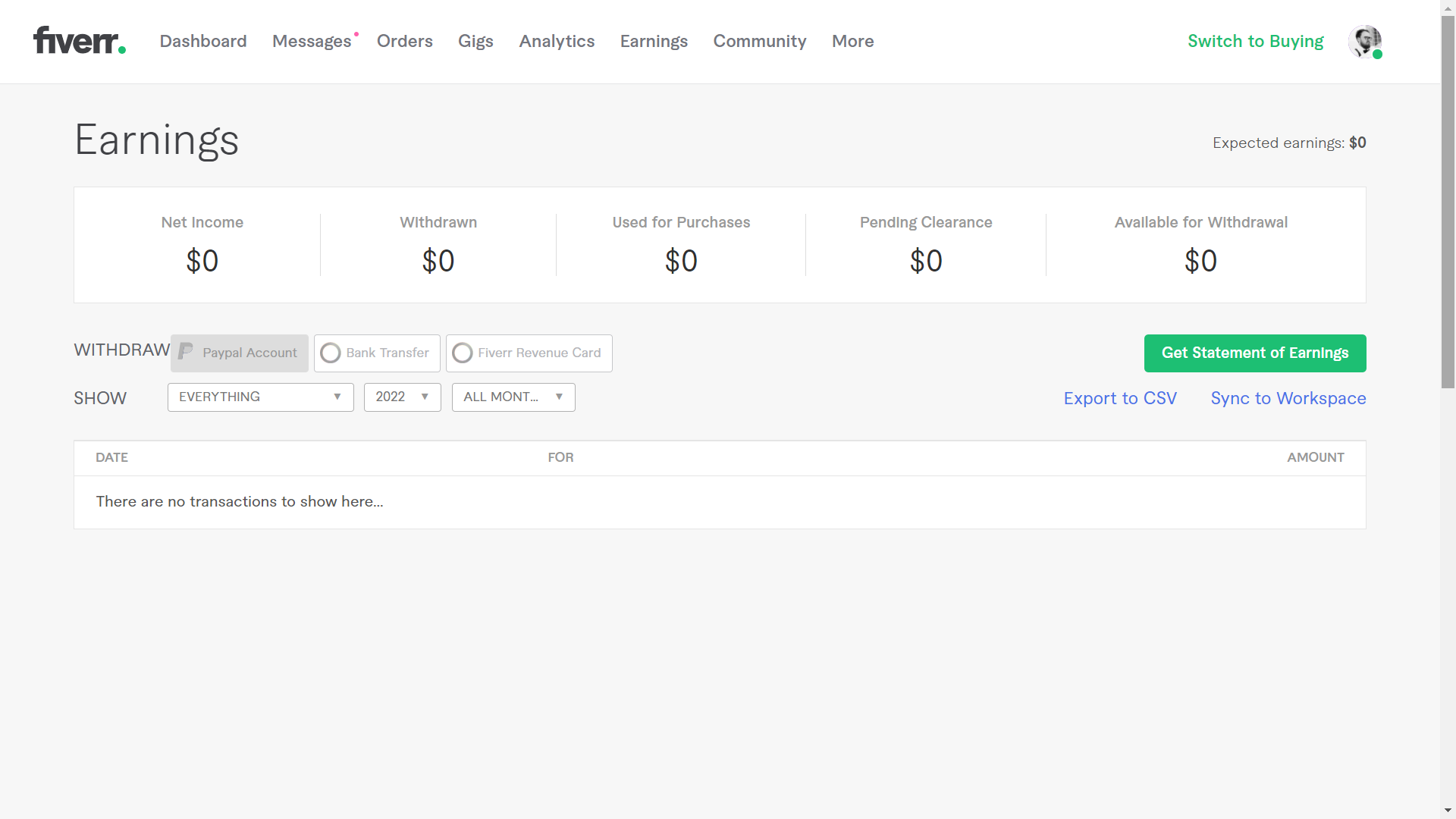 Both new and existing Fiverr sellers can apply for Fiverr Pro. Pro sellers are vetted professionals that Fiverr will help expose to more serious business opportunities and buyers. You need to apply to become a Pro seller and substantiate your claim with previous work or proof of your experience.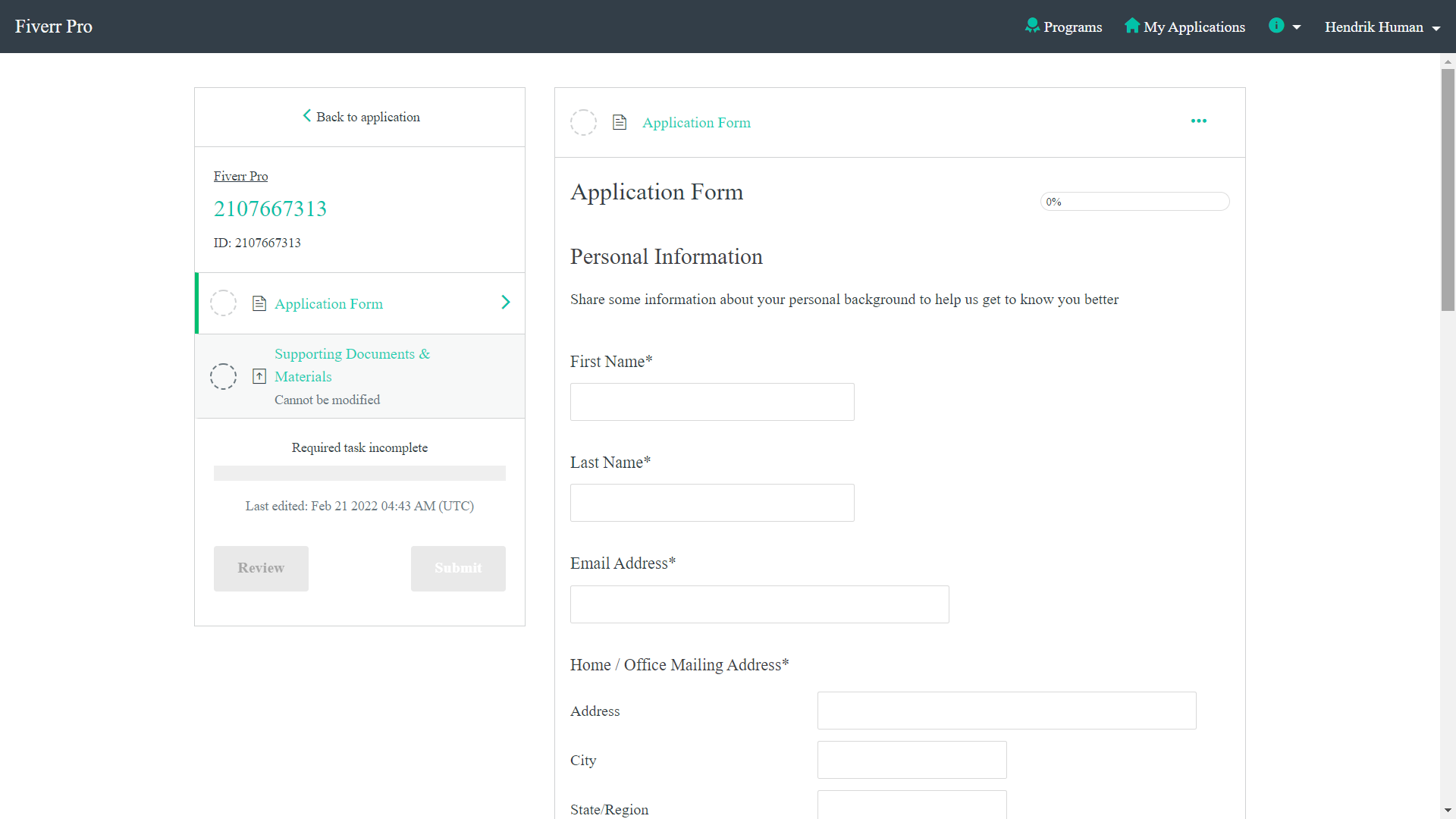 What's more, as a new seller, you may need to perform a proficiency test before publishing gigs of certain types. The content writing test, for example, takes up to 40 minutes.
This may seem like a lot of red tape. However, these rules exist as much to protect sellers themselves as well as buyers.
Sign Up to Fiverr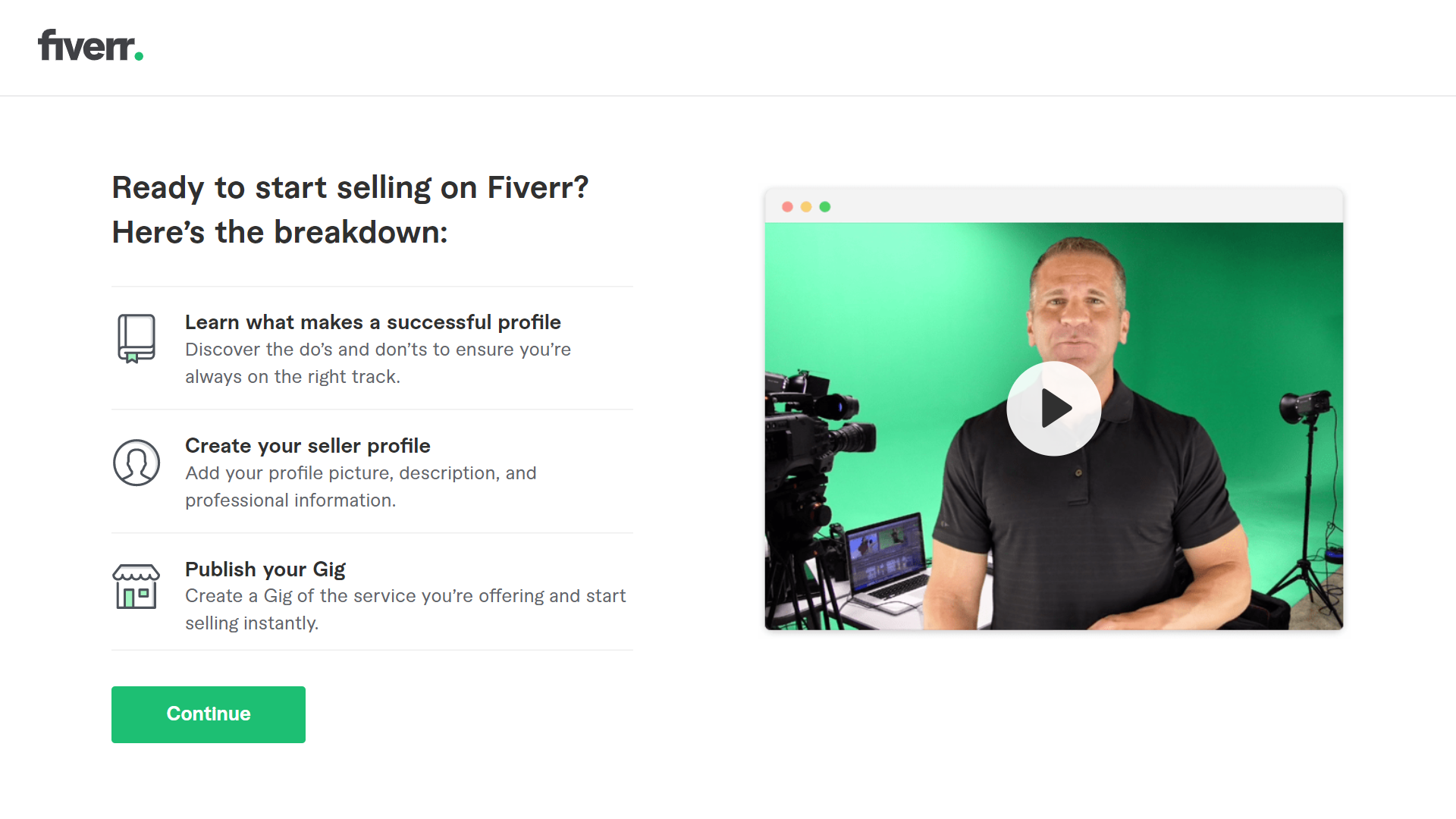 Signing up for Fiverr is incredibly straightforward. You can just sign up using a social account like Facebook or Google. Alternatively, you just need to provide your email and password.
In a later step, you'll need to provide:
Your first and last names
Profile picture
A short description of your experience
Languages you are proficient in as well as your level of fluency
Your work and educational history
Lastly, you can link some of your social accounts and add a phone number for security purposes. All-in-all, it's a pretty standard signing-up questionnaire for freelance platforms and should take about 15 minutes to complete thoroughly.
However, you'll need to reach a profile "completion" score of at least 65% to start selling your gigs and make money using Fiverr.
Later on, Fiverr may request ID verification to ensure your profile is legit.
Setting Up a Seller Profile
Fiverr encourages sellers to increase their probability of finding appropriate and high-paying jobs by creating accurate and impressive profile pages. Of course, you can do the basics, such as entering your personal and professional information as well as a profile picture.
However, you can also establish your credibility by linking to relevant work straight from your profile. For example, Fiverr will ask you to optionally link to your personal/professional website.
Creating Gigs
One of the things that distinguish Fiverr as a freelancer platform is that it hinges on the concept of "gigs." A gig is a premade service offered by a freelancer that they can "sell" to potential clients.
Below, you can see the interface and steps used for creating a gig: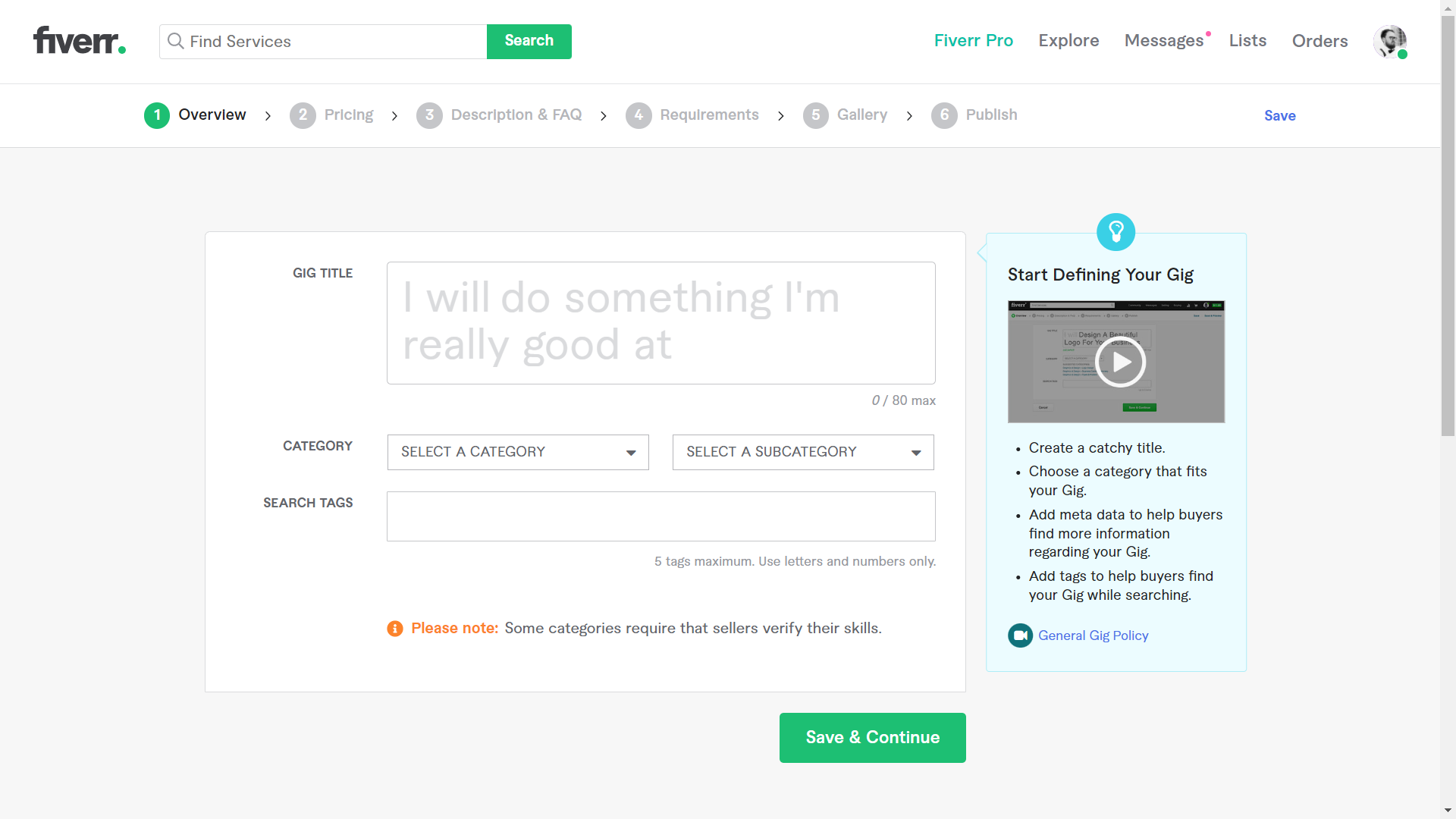 There are a total of nine categories to choose from, including Writing & Translation, Video & Animation, Programming & Tech, Business, and Lifestyle. Each of these can have a huge number of sub-categories.
Depending on the categories you select, there are also a number of other options you can check to narrow down your service. For example, under Writing & Translation, you can specify the language, topic, tone, and article type. This allows for incredibly fine-grained filtering to allow relevant buyers and sellers to connect. You can even add search tags.
The following steps are equally detailed and allow you to really flesh out exactly what it is you offer. It involves all of the following:
Creating separate pricing plans or packages as well as gig extras
Additional information in the form of a description and FAQ
Requirements for buyers to accept their offer
Gig images, videos, or attachments in document format
Finding Work
Unfortunately, unlike Upwork and Guru, you can't go looking for work as a freelancer. You'll have to post all the gigs you are comfortable offering and hope that buyers find you. You can get a bit more flexibility by accepting custom orders. Fiverr also gives you to get more exposure for your gigs through social media marketing by posting a link to your social feeds. However, that's about it.
Pricing and Fees
As a seller, Fiverr will take a 20% service fee of the total order value whenever you earn money through gigs offered on their platform. That's a really high commission, especially considering that it doesn't go down with time like some competitors.
Fiverr for Buyers – Design, Digital Marketing, Writing, and More at Your Fingertips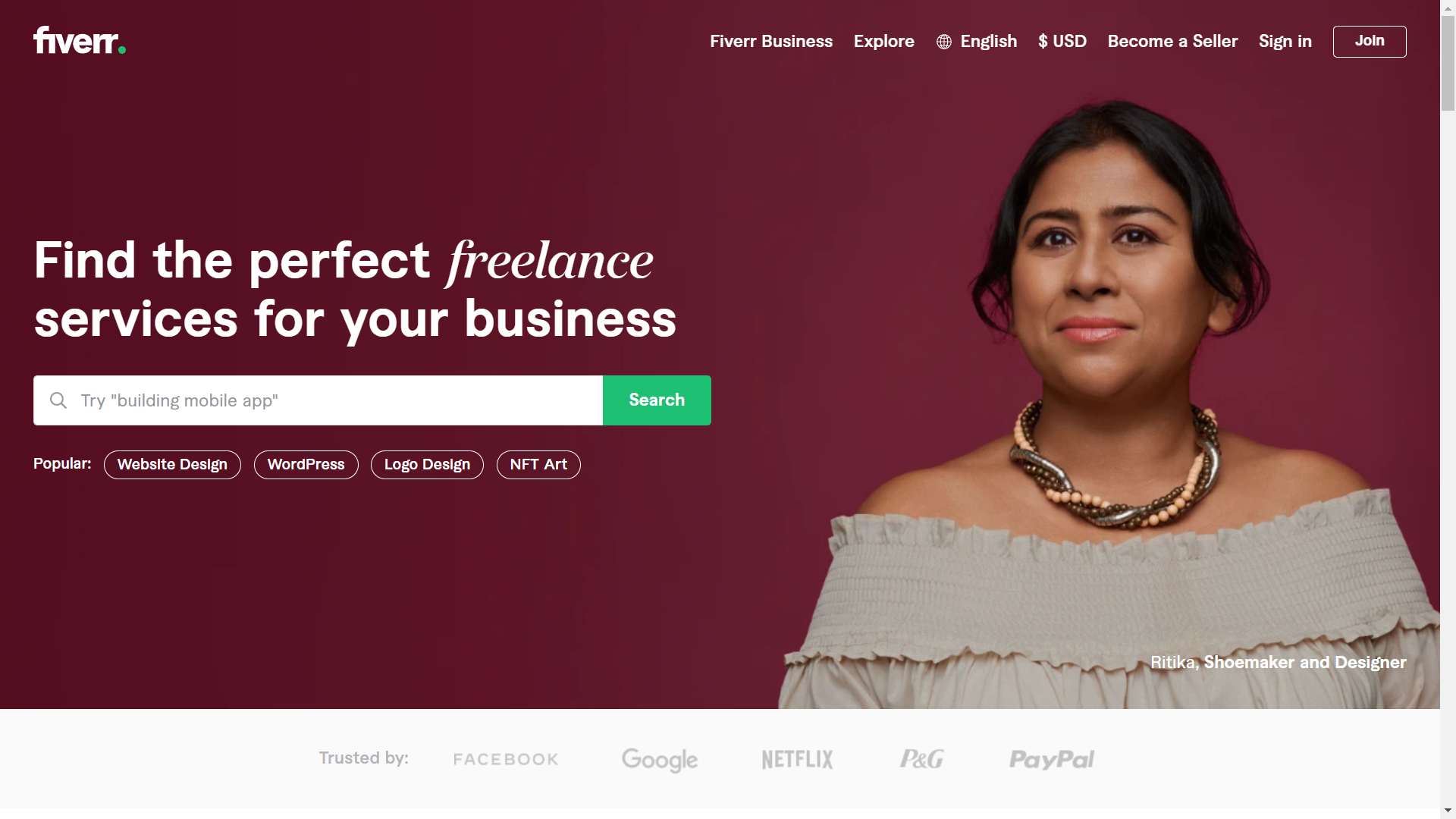 As mentioned, Fiverr works a bit differently than some other freelancing platforms. Buyers cannot post their own jobs or projects for freelancers to apply to.
Instead, you can browse the available gigs and check out the seller profile of individual freelancers. If they offer a service/product you want, you can "order" it from them.
Because of this model, signing up and using Fiverr as a buyer is much simpler. You don't have to go through the same verifications or provide as much information on yourself.
In your dashboard, you have access to simple, yet robust, tools to manage your orders, working relationships, funds, etc. That's about it.
Sign Up To Fiverr
Signing up to Fiverr as a buyer is much quicker and easier than as a seller. All you need to do is provide basic personal and contact information or sign up using one of your social accounts.
After that, you can immediately start exploring the available categories of freelance services and find suitable gig listings to make your first purchase.
Finding Freelancers
As a buyer, you will have to initiate the process of working with a freelancer. Gigs are organized under the same nine categories as they are for sellers, such as Writing & Translation, Video & Animation, Music & Audio, Programming & Tech, etc. Each is divided into a huge number of other categories.
For example, under Video & Animation, you can find video editing specifically.
Filter Search Results
Depending on the category you selected, you can filter the results further using the search tool by:
Seller level
Budget
Delivery time
Pro seller status
Subscription services
Online sellers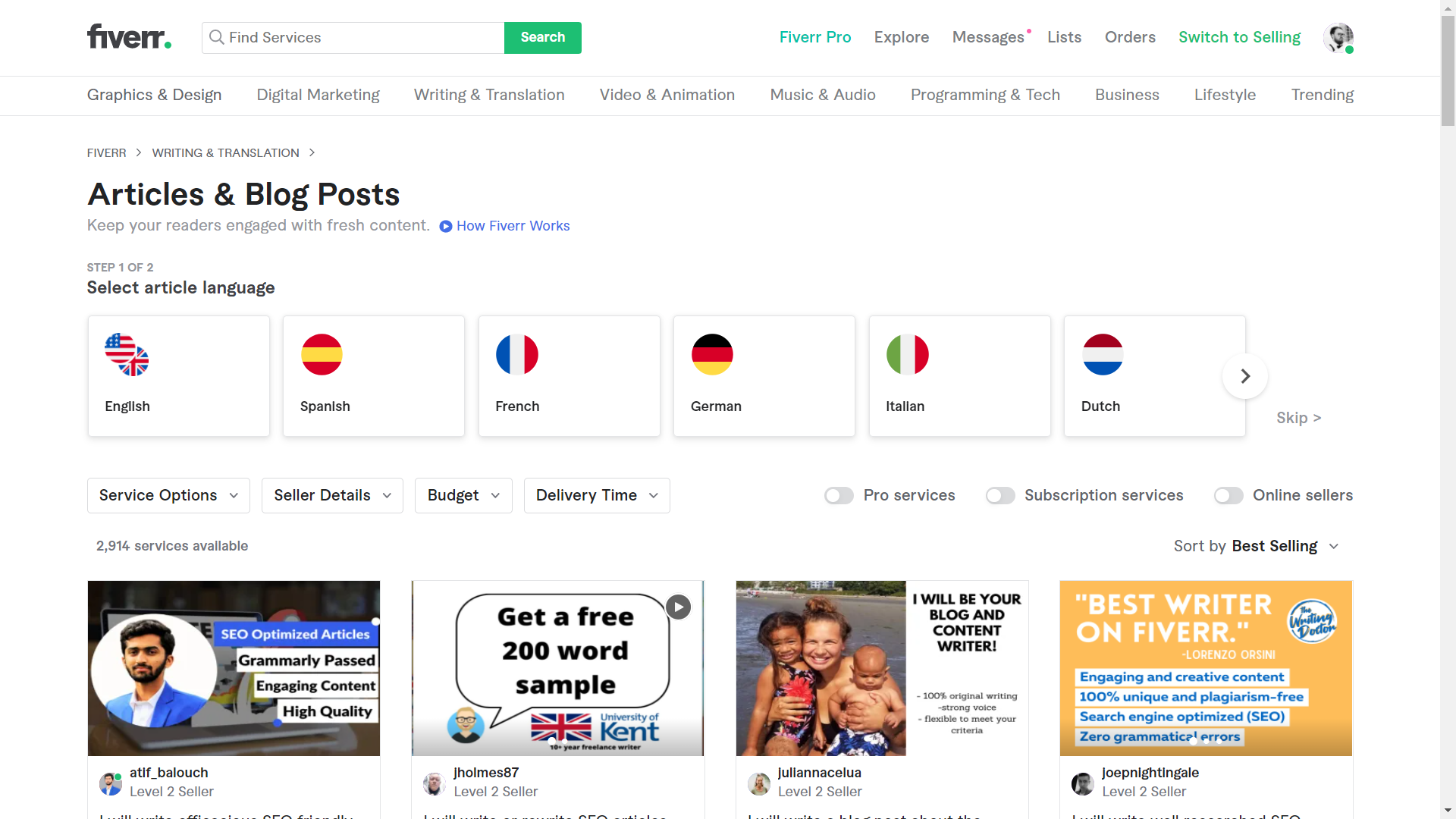 Specific categories may also have additional filters. For example, you can specify the language, topic, tone, or type of writing under "Writing & Translation" services.
When you find a suitable gig, you can open up the Gig offering page to find out more about the service offered: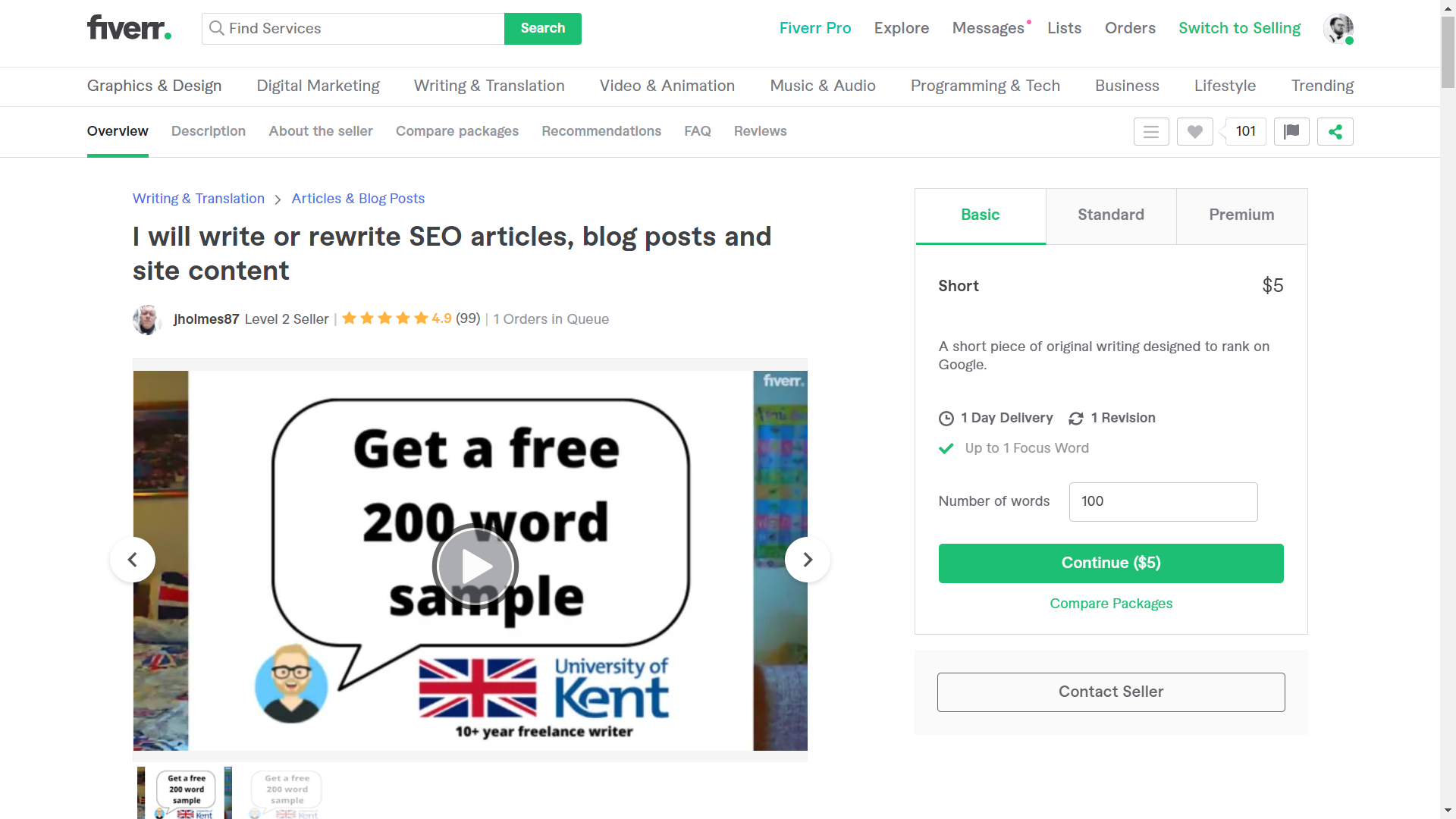 Here, you can find more details on the seller and what he/she can offer buyers, including a star rating, feedback, turnaround time, deliverables, gig packages, requirements, and FAQs. You can also contact the seller directly if you want to clarify some info.
You can then add on services (if applicable) and proceed to checkout: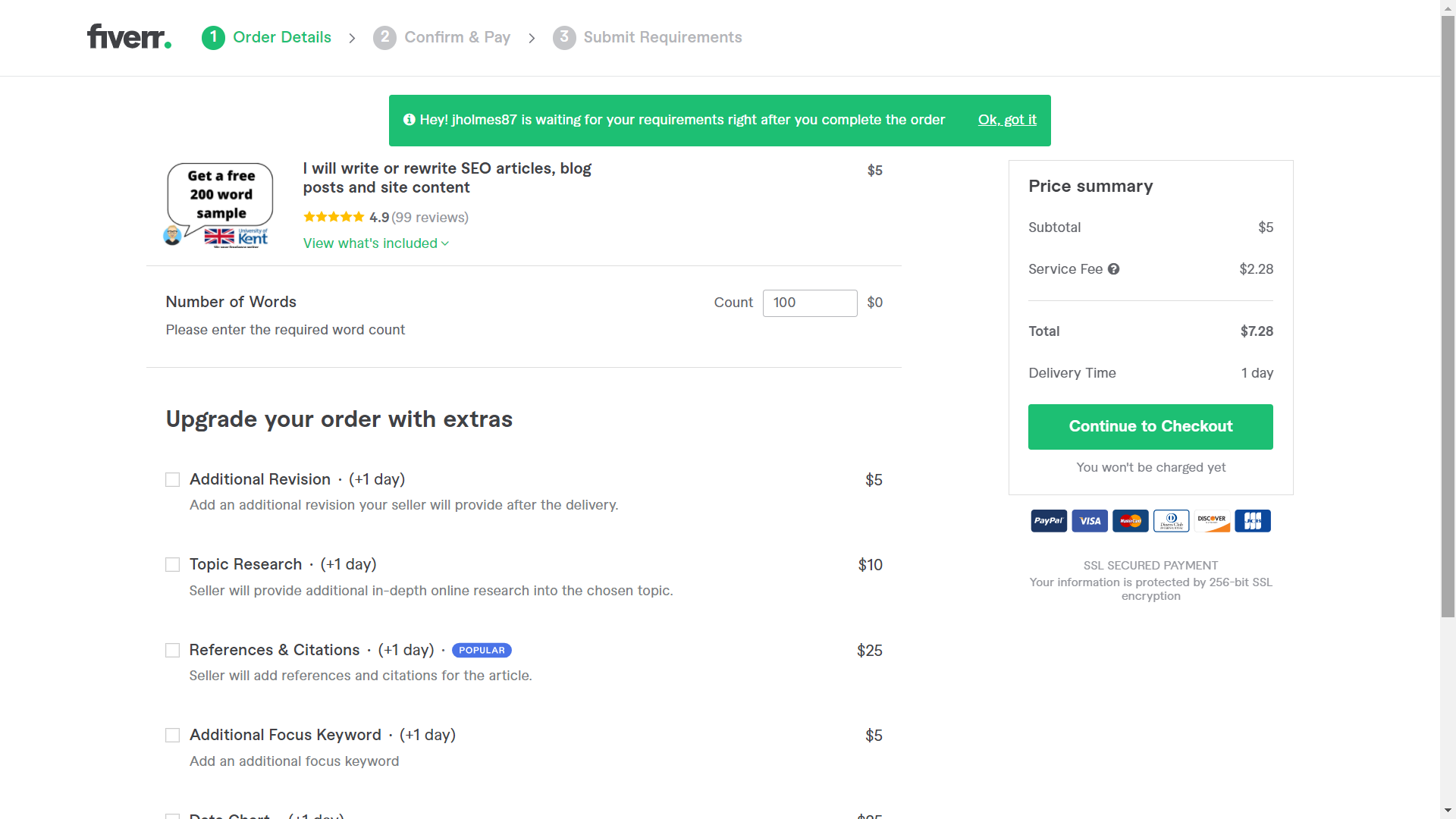 This will send your order to the freelancer who can then decided to accept/reject it.
Fiverr Pro
If you only want to order guaranteed high-quality services for your business, you can skip straight to Fiverr Pro:
There are still many professionals that sell their services as Pros and the process works almost exactly the same. However, the rates charged by pros are, understandably, significantly higher.
Still, this is your go-to if you need a verified professional as an SEO expert, web developer, virtual assistant, etc.
Pricing and Fees
As a buyer, you will need to pay Fiverr a commission fee as well that will be charged on top of the money for the actual freelance service.
Luckily, the fee is much lower than what it is for freelancers. For orders under $50, it's $2 + 5.5%. And, for orders over $50, it's a flat 5.5%.
Fiverr FAQs
What is Fiverr and How Does it Work?
Fiverr is an online marketplace where freelancers can offer their services or products. Business or employers, called "buyers," can browse these gigs and order them from freelancers. Communication, compensation, file sharing, and customer support are handled on the Fiverr site itself.
How Does Fiverr Work for Beginners?
As a beginner, you will need to jump through a couple of hoops to offer your gigs on Fiverr. You may need to take a test to prove your proficiency in your field before submitting your first gig or to verify your account. This is how Fiverr guarantees high-quality services in its marketplace.
How Do You Make Money on Fiverr?
Many people use Fiverr as a full-time career or just to make extra money on the side. As a freelancer, you set the rate or pricing for your services/products. You can also add extras at add-on costs. As a legit website, Fiverr will handle the payments between buyer and seller and will release the payment when the order is completed.
Can You Get Scammed on Fiverr?
Yes, unfortunately, there are always bad actors and not all freelancers are the same quality. However, Fiverr does put measures in place, such as Escrow services, vetting freelance ability, etc. to prevent most scams.
How Does Payment Work?
Fiverr has measures in place to ensure a payment only goes through when there is a 100% completed order. They will first hold you dollars, depending on whether both parties have agreed on the task. They will then release the funds to the freelancer upon completion.
Conclusion
Fiverr has something for everyone, whether it's businesses, freelancers, or individuals looking for help on their projects.
And, as a registered user, you'll benefit from conflict resolution, training & education resources, and a user-friendly site with fantastic features.
The huge amount of categories and filters means it's easy to find the right freelancer for the right job. The platform can be used for selling products as well as other business services.