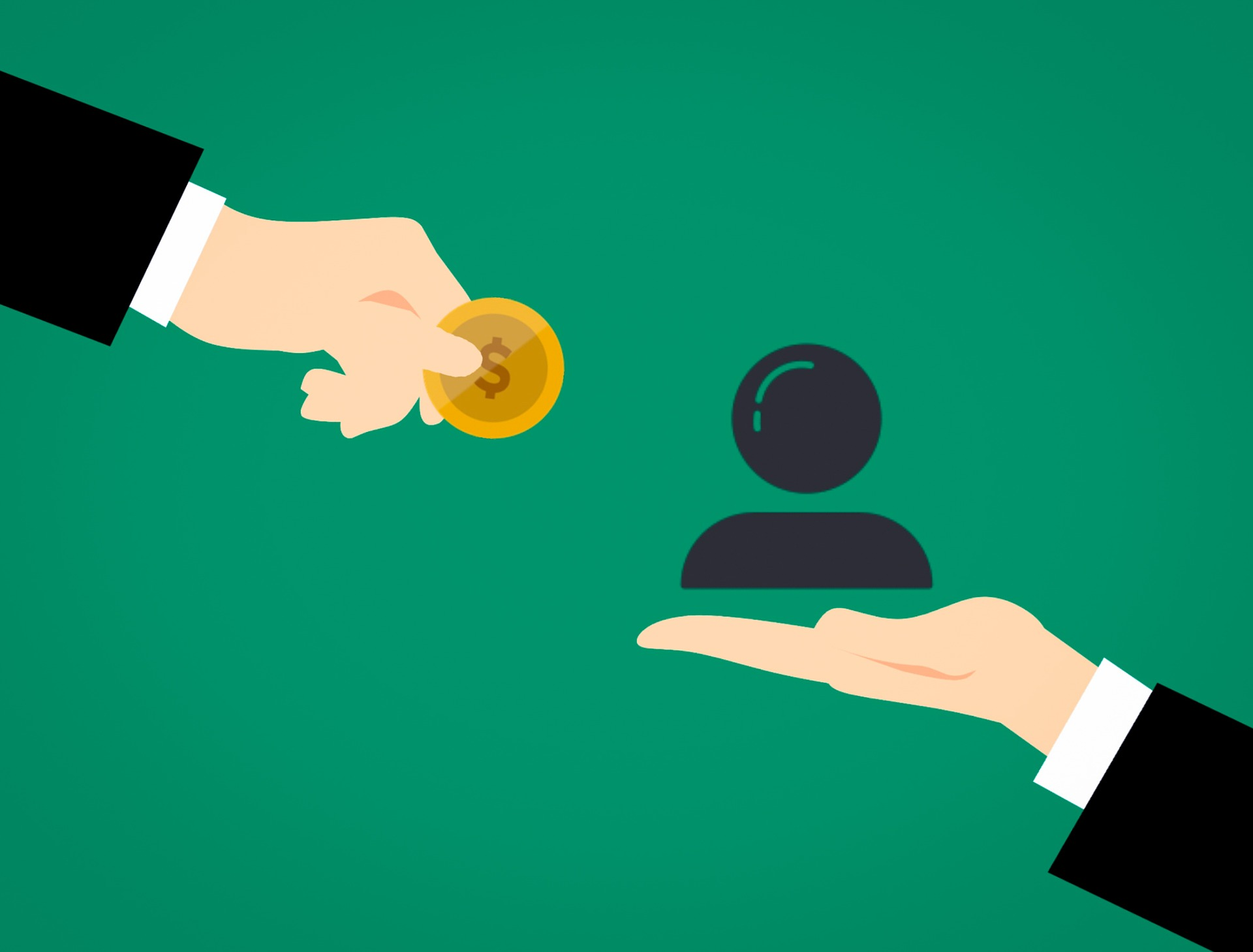 The fast-paced and competitive business world of today means that businesses are under enormous pressure to be lean, flexible, and cost-effective in everything they do. In many cases, simply hiring permanent, in-house talent for every new project or skill gap is the opposite.
Recent developments, including the COVID-19 pandemic, have accelerated the disruption of the traditional work environment even further. Now, it's not unheard of for companies to not only outsource work for specialized tasks but even their entire workforce.
For a small business, outsourcing can help you gain forward momentum as you grow without getting bogged down by swelling human resources. For larger businesses, it can provide a level of flexibility and cost control that's hard to match.
What is outsourcing and how do companies outsource?
Simply put, outsourcing means hiring an external service, provider, or individual to complete work for your business, instead of relying solely on internal resources or staff.
For example, let's say you're a retailer launching a new consumer-facing app. Since this is something you don't do on a regular basis, you don't see the need for taking on permanent staff to form an internal software development team. Rather, you can outsource work to someone who specializes in software development to complete this particular project.
Unsurprisingly, there are different ways companies can go about outsourcing work. It all depends on your needs, requirements, budget, scope, and scale. Outsourcing work ranges from a website owner hiring a VA (virtual assistant) to complete basic administrative work to enterprises hiring an entire team to handle all their digital marketing.
Do you need to outsource work for a specific, one-off project? Do you need to fill a skill gap by hiring on-call talent on an ongoing basis? Do you need an individual, a collection of individuals with different skills, or an entire team? What are the prospects for your company's growth? To what degree will the outsourcing service need fit into your company culture?
The answers to all of these questions affect in which ways companies choose to outsource their human resource needs.
Why is outsourcing so vital today?
So, why should you consider outsourcing some of your business processes? Good question.
When it comes down to it, outsourcing helps control operating costs, reduce the difficulty that managing dispersed teams presents, and allows you to focus your decision-making on the core business strategy.
Access to world-class talent
If you need to hire talent with skillsets outside of your business's core competencies, it becomes exponentially harder to secure top talent. For example, why would someone with a high level of skill and ambitions in cloud services take a limited role with few prospects for promotion by applying to law firms?
However, by looking for outsourcing partners that specialize in IT, you can secure top talent for your business indirectly. Effectively, you'll be improving the size and quality of your hiring pool.
At the same time, you'll enjoy the benefit of having fresh perspectives and a wider range of skillsets at your disposal.
Reducing costs
There is a lot of baggage that comes with hiring a full-time employee. Not only is their salary a fixed expense you will incur every month, but you have to think of the secondary costs. For example, managing a larger team, providing them with work resources, benefits, occasional promotions & raises, etc.
When companies outsource, they don't just outsource a single role or team, they outsource all of these secondary obligations and operating costs as well. The individual, or their permanent employer, will be the ones taking care of these concerns.
Also, because outsourced teams work with multiple clients, they can typically offer their services at extremely affordable rates.
Focus on your company vision
Most businesses were founded to provide specific services, solutions, or products. All other activities simply exist to enable the core business but do not actively help to drive the business forward.
This is particularly true for small businesses that don't have the limitless money and resources to throw at every internal gap. In this case, engaging independent contractors to serve small businesses' specialty needs can help to focus efforts on the core business functions with minimal distractions.
Flexibility and scalability
As your business grows, so will your need for additional human resources. That means that, even if you invest in an in-house team, it's not just a once-off investment. You'll need to continually provide that team with the resources to grow, including hiring even more talent.
What's more, the hiring process takes longer and you can't simply snap your fingers to grow your workforce.
Using various outsourcing channels, however, you will have a near-limitless hiring pool at your disposal. Typically, outsourcing companies have more employees on hand than what they need for their current batch of clients. As your needs grow, they can assign/unassign workers to your projects or contract.
In this way, you can instantly fill any gaps or get access to different skillsets. You can also more accurately forecast costs.
Most common outsourced business processes
The best way to find and hire outsourced talent will not be the same for everyone. For example, when small businesses outsource, their requirements and constraints might be completely different from those of a large company in the same field.
Knowing about the different types of outsourcing and how they work is crucial to choose the most intelligent option for your needs.
Turnkey Outsourcing
This is when companies choose to outsource entire business processes to an external provider. For example, janitorial services, manufacturing of a product, IT maintenance, or an outsourced legal department, or even a company gym.
In this type of outsourcing, you typically give over almost all responsibility and oversight to the provider. You yourself exercise minimal operational control over the day-to-day workings.
This approach is greater if you only want to focus on your job to complete core business functions.
Hybrid Outsourcing
This is another very common type of outsourcing. In this approach, you don't outsource an entire business process, but rather specific skills or tasks. Still, these are professional services from outsourcing providers that specialize in a particular field or service.
Instead of hiring ground-level employees, it can also involve hiring thought-leadership at C-suite level to provide direction or expertise for a particular project or strategy.
Whatever the case, your company still regularly interfaces with the provider and is involved in the entire process at some level or another.
These types of services typically include:
Marketing
Finances
Software development
Human resources
Customer support
Freelancing
Sometimes companies outsource jobs to individuals or small teams on an ad-hoc basis. Typically, this approach is great to save money because freelancers work at affordable rates, although the costs can be unpredictable.
Called the "gig economy," many businesses, professionals, and external contractors are taking advantage of the flexibility it has to offer. Companies that experience rapid growth can take on or let go of employees on a case-by-case basis.
Freelancers with all types of skills and levels of experience can be found online using job boards and freelance marketplaces. It allows you to quickly take advantage of key opportunities, for example, by getting content writers to quickly churn out an article on a trending topic for your website.
However, there is always the risk of hiring unskilled workers or those that are too busy working for multiple employers.
Top online outsourcing companies
As we mentioned, there are very different ways to go about it if you decide outsourcing is for you. If you're looking to outsource specialty work from an agency or managed services team, you'll have to do some research and narrow down the competition.
Upwork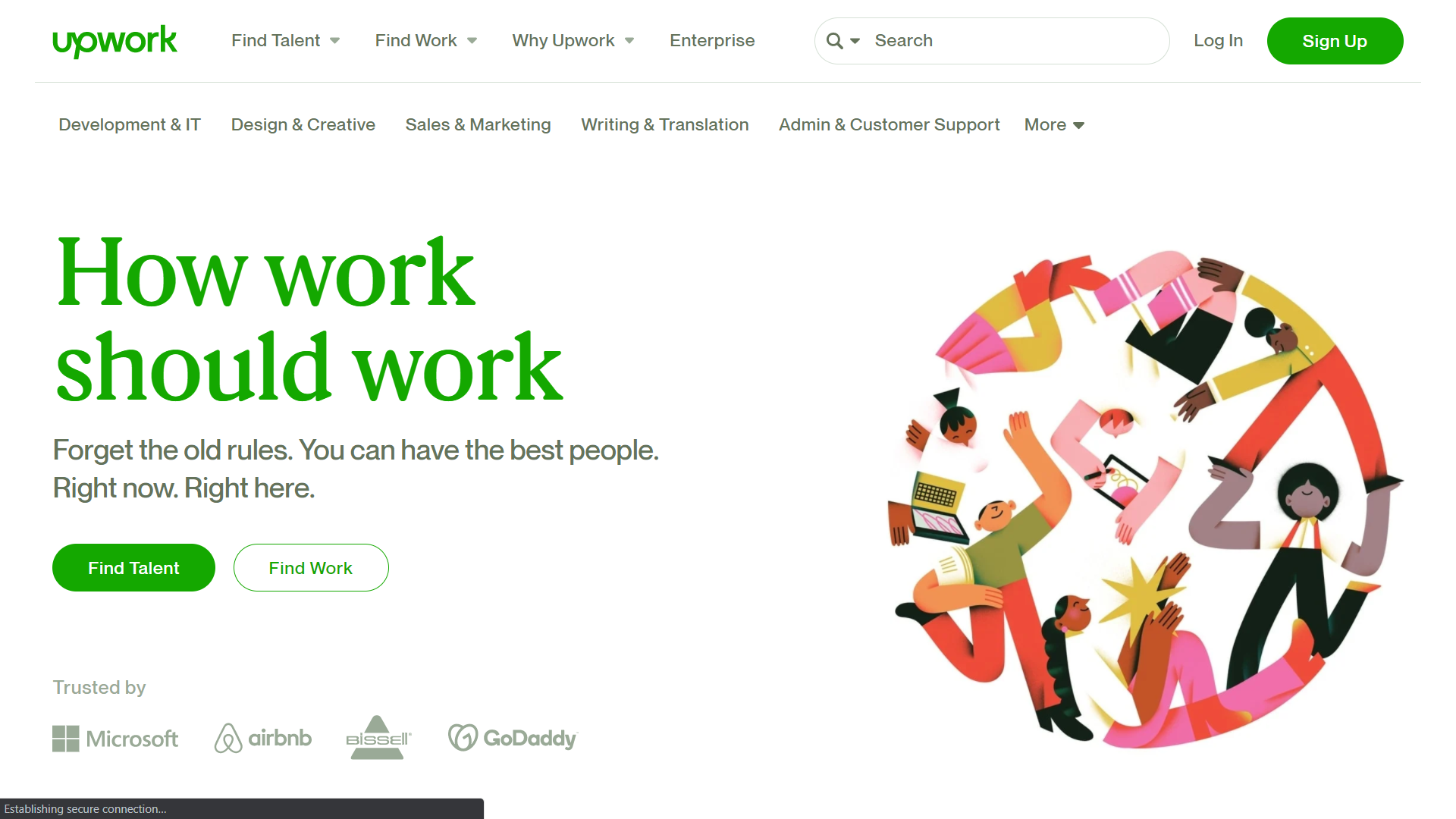 Upwork is one of the most popular and active freelancing platforms today. When companies choose to outsource, they can create and post jobs to the job board for freelancers to apply to. From there, employers can look over and interview candidates, just like any other hiring process.
Upwork provides tools to allow for flexible working arrangements. You can base your projects on a single deliverable, milestones, or even hourly work. You can find professionals for everything from graphic design to data security.
Fiverr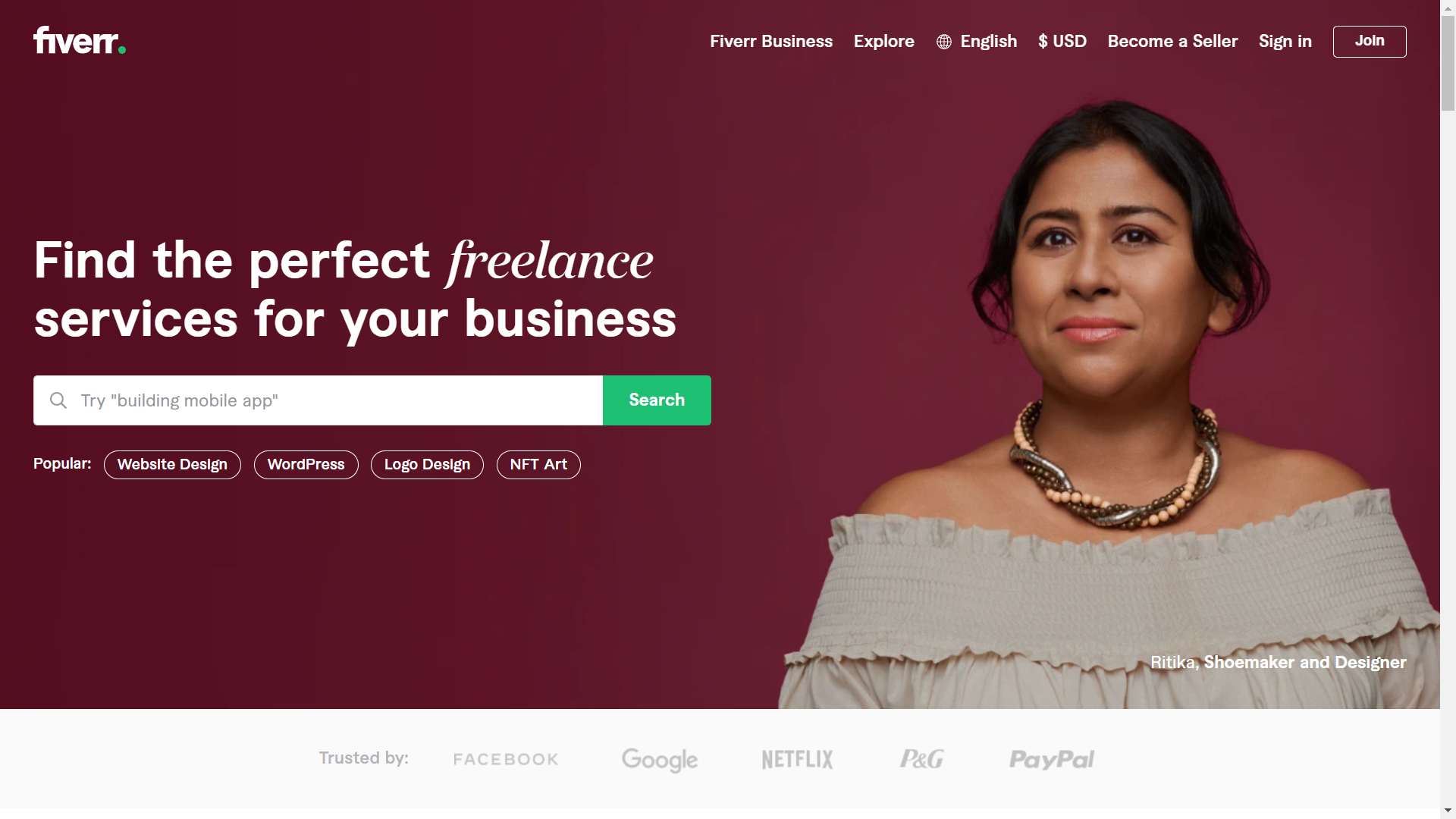 Fiverr started out as a freelance platform where freelancers, called "sellers," offered one-off services for just $5. Now, freelancers can sell services that cost anywhere between $5 – $10,000.
Fiverr is a bit different because employers cannot post jobs on a job board. Instead, it's an online marketplace where freelancers sell their services in premade packages that employers can buy from them.
Among the services offered, there are freelancers who specialize in helping businesses outsource. Like Upwork, Fiverr helps sellers and buyers cooperate safely and conveniently with tools like escrow, dispute resolution, etc.
Guru.com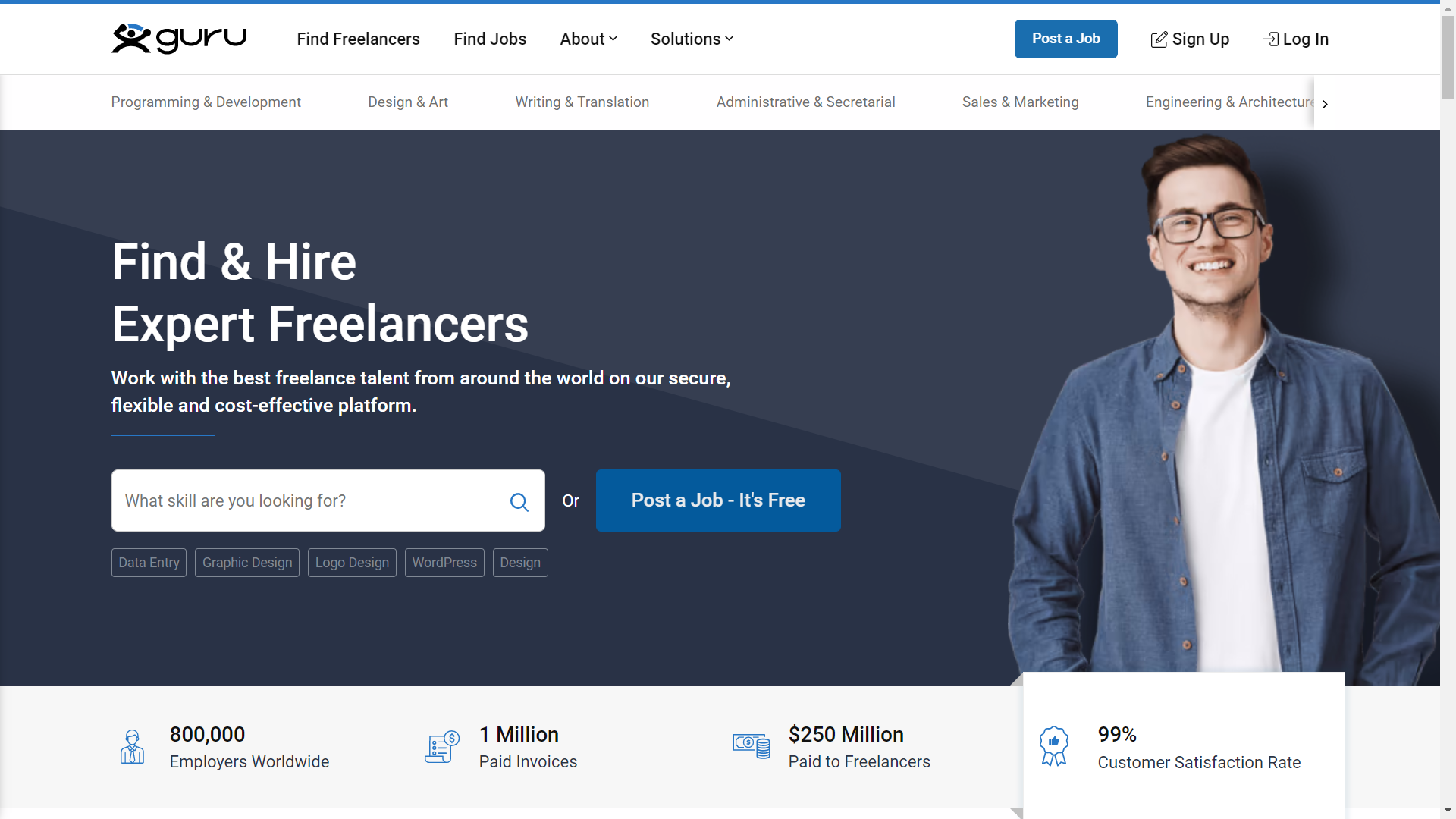 Guru sits somewhere between Upwork and Fiverr as a platform for professional freelancers to connect with companies located across the globe. Guru works both ways, letting employers post jobs for freelancers to apply to as well as letting freelancers create professional accounts and services to attract employers.
It's a very active platform that leans more towards experienced and vetted professionals. Like Fiverr, you can even use it to find outsourcing professionals to help you.
Toptal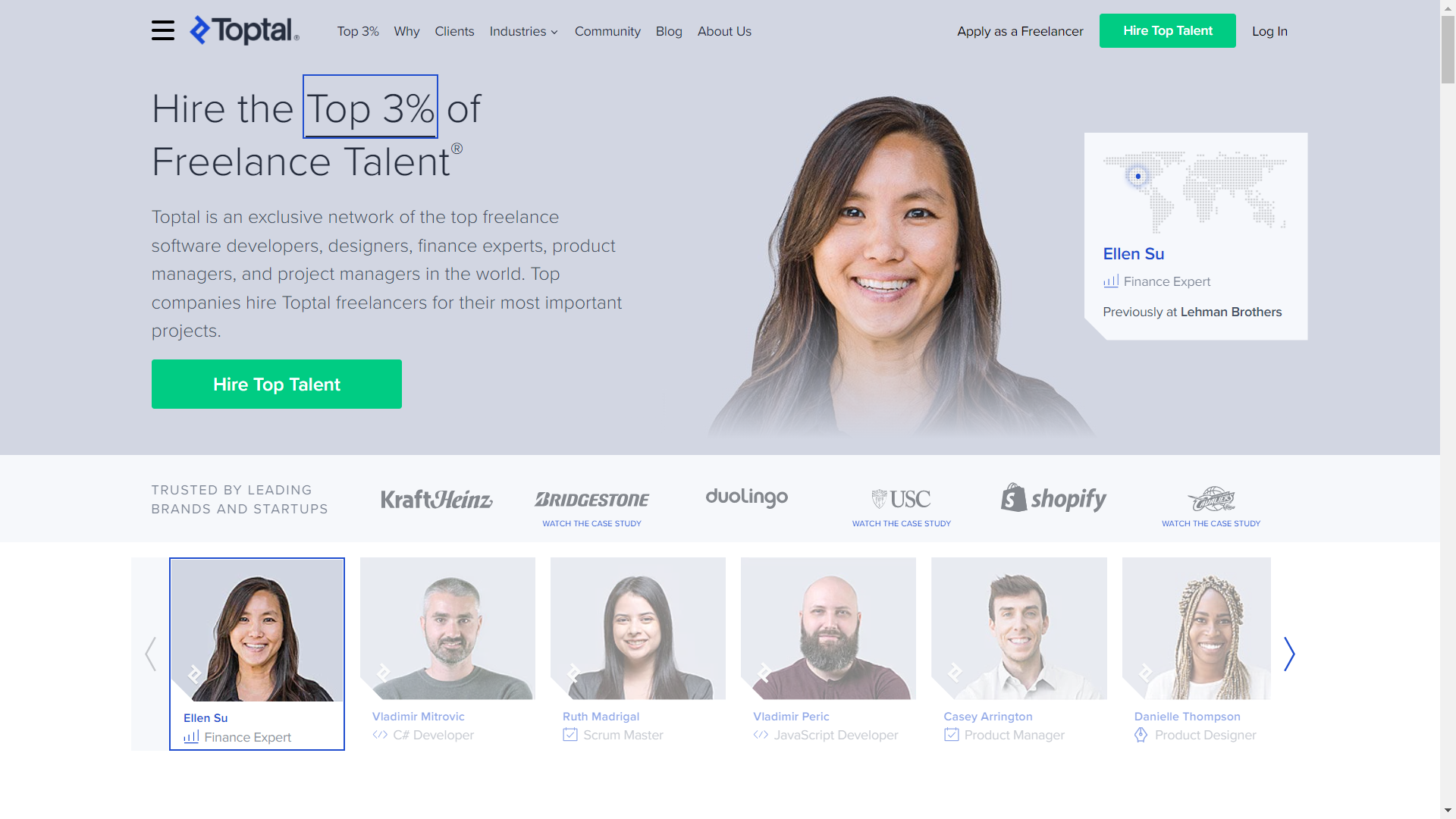 Toptal is a more professional and organized way to fill outsourced positions. Unlike other freelancing platforms, Toptal vets their freelancers much more strictly. They claim to put employers in contact with only the top 3% of freelance talent.
However, if cost savings is your main aim Toptal might not be the best solution. As they hire top talent, professionals themselves tend to charge hire rates. Toptal themselves also take a 100% markup for their services.
However, Toptal offers the most extensive human resource support throughout the outsourcing process which will greatly reduce the effort of hiring.
LinkedIn Marketplaces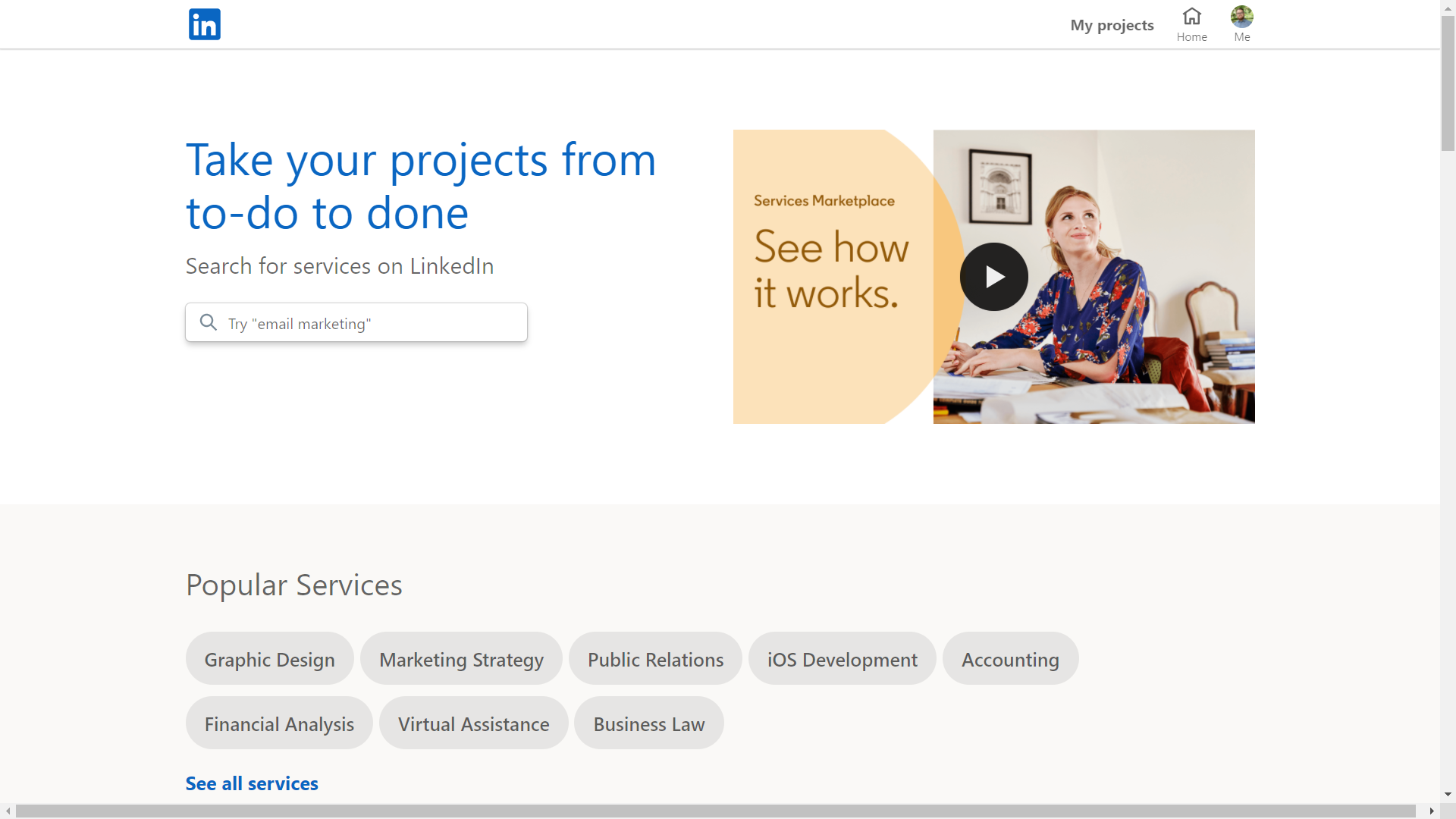 with the exception of Toptal, most of the above examples are focused on finding freelancers or very small outfits to outsource specific tasks. You might know LinkedIn as the professional social media platform for businesses to connect and network.
However, LinkedIn Marketplaces is an integrated platform that allows businesses to find professional outsourcing providers. LinkedIn encourages actual professional agencies, instead of ad-hoc freelancers.
This makes it more suitable if you need to outsource an entire team, project, or department. The best part is that it's also completely free to use.
Tips to outsource successfully
If your company decides to outsource some of your business processes, here are some tips to keep in mind:
Understand your own needs and limitations.
Clearly communicate the job scope, budget, and requirements.
Carefully screen candidates.
Have a proper onboarding and integration process in place.
Manage the relationship.
Pros and Cons of Outsourcing
Despite its massive potential benefits, outsourcing isn't without its challenges. Here are the most important advantages and disadvantages to keep mind of:
Pros
These are the main reasons why companies choose to outsource a business process:
The potential to control costs or even achieve a cost reduction due to secondary impacts on internal resources.
It removes the distractions of juggling multiple teams, departments, and roles so that you can focus on the key components of your business.
Employers get access to a wider and deeper pool of outsourced talent that brings a wide range of skills, experiences, and perspectives.
Enjoy better flexibility and scalability as your business grows with on-demand human resources.
Cons
Despite all the positives and potential benefits, there are a few downsides to outsourcing:
Sometimes providers can outsource outsourcing to third parties in order to cut corners.
If you don't choose a suitable outsourcing arrangement, it could curb the potential cost savings.
Outsourced employees may not have the same stake in your success or understanding of your company culture.
While companies choose internal staff based on a range of criteria, you don't have as much control over the individuals working on your projects.
There may be a communication gap, especially when working across time zones.
Conclusion
Undoubtedly, outsourcing is set to become a fundamental part of how businesses adapt to the changing global landscape. In the not so distant past, this seemed a long way off but in recent years, a seismic shift has occurred pushing businesses in this direction.
Used correctly, it gives businesses unprecedented flexibility, scalability, and access to top-class talent while enjoying better operational control over their core competencies. That's what makes outsourcing crucial in today's context, especially for growing small businesses.