In this article, we'll compare two of the most popular e-commerce platforms today: WooCommerce vs Magento.
Both WooCommerce and Magento offer all the features you could possibly wish for to build a successful online business. However, these platforms differ greatly in terms of how they help you achieve those goals. Specifically, the pricing model, target market, and user experience of the two couldn't be more different.
So, if you're scratching your head over which option is the best for you – fret no more! We'll help you make an informed decision that will help you get started on the right foot.
WooCommerce vs Magento: An Overview
Before we get into the details, let's take a quick refresher on both WooCommerce and Magento:
WooCommerce – Build a Rich WordPress Online Store
Chances are, you've heard of WooCommerce before, especially if you're a WordPress user. WooCommerce is easily the most popular WordPress plugin that can turn your website or blog into a full-fledged eCommerce store.
One of the reasons WooCommerce is so popular is because the base plugin is free. Combined with WordPress, this means you can build an online business at zero cost. Instead, WooCommerce is highly modular with paid extensions that add features and functionality to eCommerce stores.
WooCommerce is just as easy to use and manage as any other WordPress plugin and is aimed at small and growing businesses. The main catch is that the basic free version is very limited, and you'll need paid extensions for use some essentials, such as the ability to sell both physical and digital products, some popular payment gateways, etc.
WooCommerce Pros
The cost of WooCommerce will be tailored according to how much functionality you need.
It's a beginner-friendly way to build an eCommerce store using WordPress
There are many official and third-party WooCommerce themes to take care of your site design
WooCommerce Cons
You will need to find your own hosting provider and mostly handle site optimization yourself
Many features are only included with paid extensions and the costs can add up
If you're not familiar with WordPress, you'll need to learn both platforms
Magento – The Open Source Ecommerce Platform for Developers
Magento used to be one of the most well-known and popular e-commerce platforms. We say "used to" because it was acquired by Adobe in 2018 and incorporated into its Adobe Experience Cloud platform. In the process, it was rebranded from Magento Commerce to Adobe Commerce.
Magento has always been a more developer-oriented e-commerce solution and the Community version is still open-source today. Open-source Magento is still available as a downloadable framework for developing online stores. However, Magento is also available as a SaaS-hosted solution and a completely proprietary, cloud-based eCommerce platform.
Magento Pros
The Magento extensions store is huge with thousands of free and paid plugins
The paid Magento platform comes with advanced security measures, site performance, and SEO built-in
Adobe will do most of the work to maintain Magento, including dedicated security patches
Aside from retail, Magento also caters to other essential business categories
Magento Cons
Magento open-source is relatively difficult to set up and is aimed mostly at developers
Magento Commerce and Enterprise is very expensive and only suitable to large businesses
WooCommerce vs Magento: Pricing
Whether you want to use Magento, WooCommerce, or any other eCommerce platform, cost is always an important factor. High subscriptions or fees can quickly eat into your profits. So, before we get into anything else, lets look at how WooCommerce vs Magento compares in terms of cost.
WooCommerce
As open-source software, the good news is that the base version of WooCommerce is free. You can head over to the WordPress plugin repository to download and install it to your site right now, free of charge. The only catch is that this free version is limited to only the most essential features.
Of course, creating a WordPress site in itself is also completely free.
WooCommerce makes many by charging fees for its more powerful e-commerce features and capabilities. You can pick and choose these features a la carte, adding them to your WooCommerce store one by one.
The upside of this is that you can tailor your WooCommerce costs exactly to your needs and budget. You won't have to pay for anything you don't need. However, the downside is that it's hard to predict exactly what it will cost you until you have used WooCommerce and have discovered exactly what you need, and what you don't.
Here is a list of some of the expenses you might face when setting up a WooCommerce eCommerce store:
Theme: WooCommere Storefront themes cost $39/year and $79/year for their responsive online store templates. You can also buy the StoreFront framework for $69/year. Premium themes by third-party developers typically cost $50-$100.
Extensions: While there are many free extensions, there are also tones of premium extensions that may be vital to your store. These can range anywhere from $29 (Min/Max product quantities) – $199/year (subscriptions).
Payment processing: Like all e-commerce sites, you will need to pay fees to process transactions. For WooCommerce, this is 2.9% + $0.30 for US-issued credit cards with an additional 1% fee for credit cards from other countries.
So, as you can see, it's hard to say exactly what you'll end up paying for WooCommerce. In total, your various marketing and e-commerce extensions should cost you around $100 – $200/year. You should also put aside another $100 – $200 for shipping.
Magento
Luckily, despite being absorbed by Adobe as Adobe commerce, the open source code for Magento is still available for developers, under Magento Open Source. Just like before, this comes with the basic eCommerce capabilities for developers to deploy and build their own e-commerce site.
However, Magento has retained its two pricing packages under Adobe, known now as Adobe Commerce and Adobe Commerce Cloud. Unlike WooCommerce, these premium eCommerce platforms are not modularly priced according to your desired features. Instead, the cost scales according to your annual sales/revenue.
The table shows how much you'll end up paying for different revenue brackets: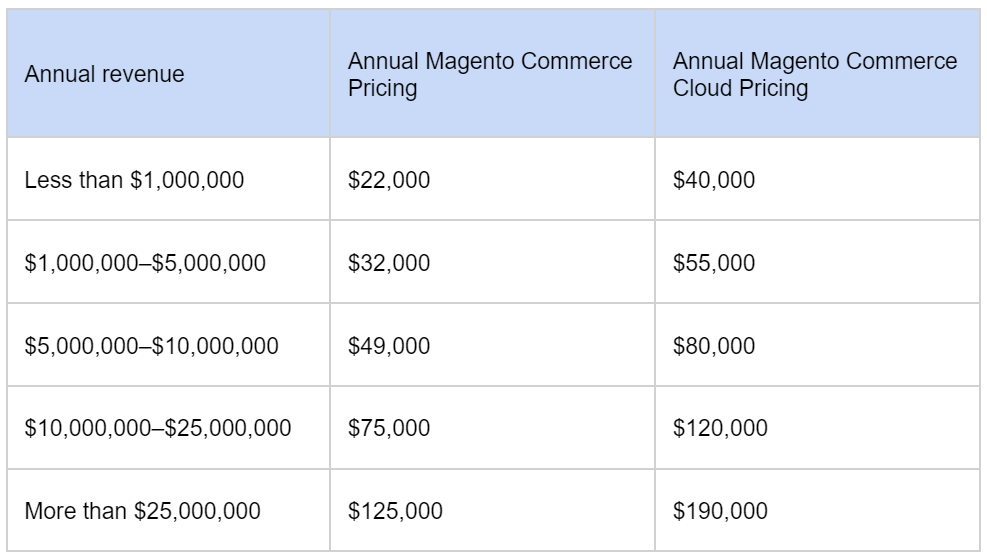 As you can see from the pricing, as Adobe Commerce, Magento is definitely aimed more towards an enterprise market. It's unlikely that the vast majority of individuals, new businesses, or local small businesses will be able to afford even the lowest revenue bracket pricing that Adobe Commerce has to offer.
The Magento commerce extensions store still exists, however. Here, you can find a huge number of completely free extensions as well as paid extensions that range anywhere from just $10 to over $15,000/year.
So, while the barrier to entry is much higher, the good news is that your pricing will be stable. this is especially true because you are less reliant on extensions than with WooCommerce.
Verdict
As both Magento and WooCommerce are variably priced, it's hard to conclude exactly who is the better value-for-money option. This is especially true thanks to the fact that both have a free version while Magento's premium services are aimed at an enterprise market and WooCommerc more at SMBs and retailers.
However, we probably have to give it to WooCommerce due to being a much less costly option that's accessible to a wider market. Plus, it's a huge benefit that you can purchase features on a one-by-one basis to tailor it according to your budget.
Keep in mind that, to build an online store with either, you will still most likely need to pay for:
Hosting
A domain name
An SSL certificate
Shipping
Payment processing
WooCommerce vs Magento: Themes and Appearance
It used to be the case that you need to either have design experience or hire a pro designer to have a beautiful website. However, thanks to modern-day CMSs and website-building platforms, you can import a beautiful and conversion-driven design with just a few clicks.
Aesthetics are important when creating an online store. So, let's look at how WooCommerce vs Magento compares in terms of design and the available themes.
WooCommerce
WooCommerce offers its very own library of 46 professionally designed online store templates. These cover a healthy variety of eCommerce websites, from outdoor apparel to F&B to baby goods to an Amazon-like marketplace.
Of these 46 templates, 3 are offered completely free of charge, one of which is the flexible Storefront theme.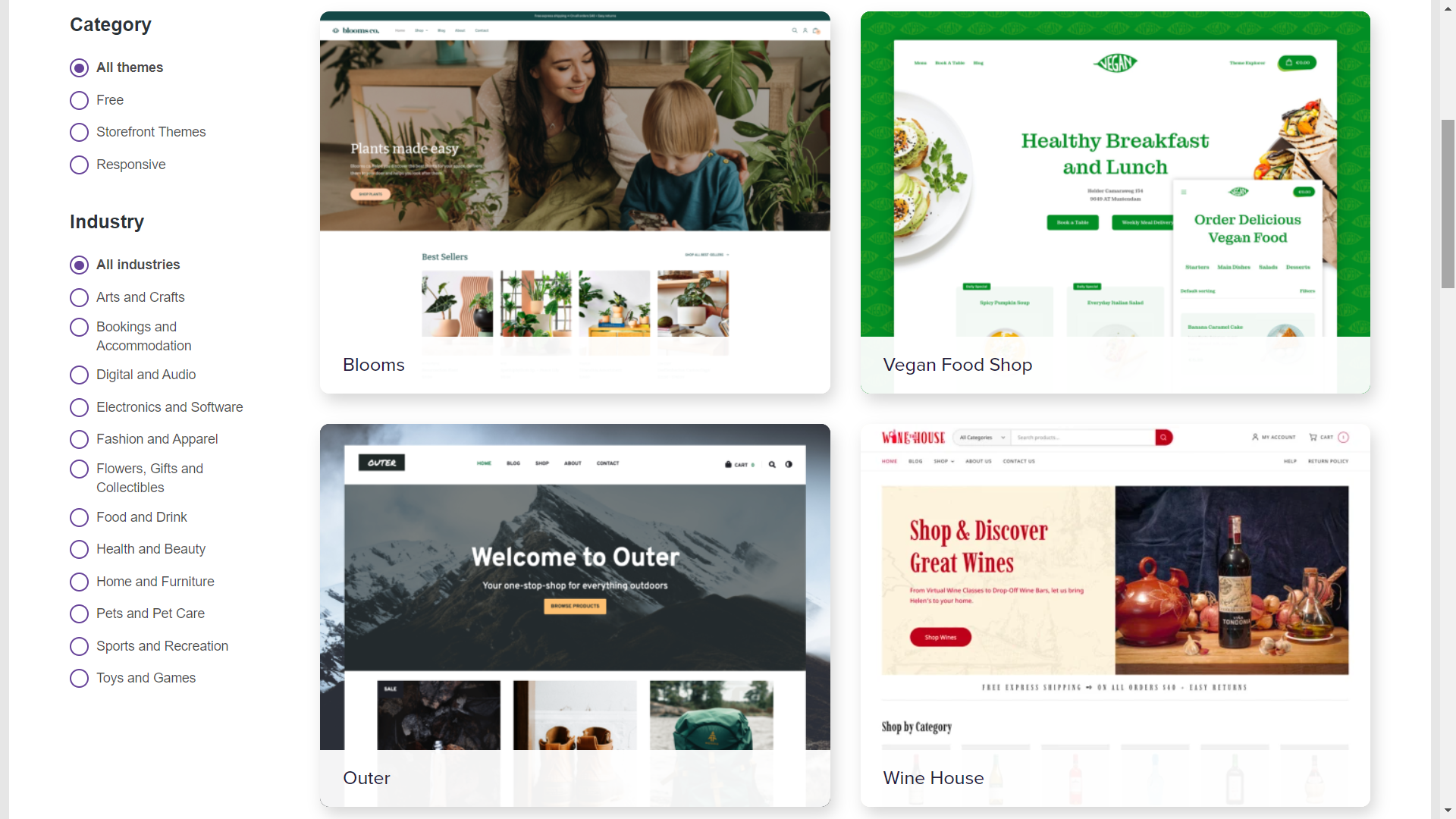 Storefront is more like a theme framework than a pre-designed template, allowing you to build and style your own, unique online store from a blank slate with convenient layout and design options. The out-of-the-box design is purposefully simplistic so that it's easier for you to put your own stamp on it.
The other free themes are created for a deli and boutique jewelry store. The design quality is not quite as good as the paid-for themes but it's a good foundation for store owners to get started with.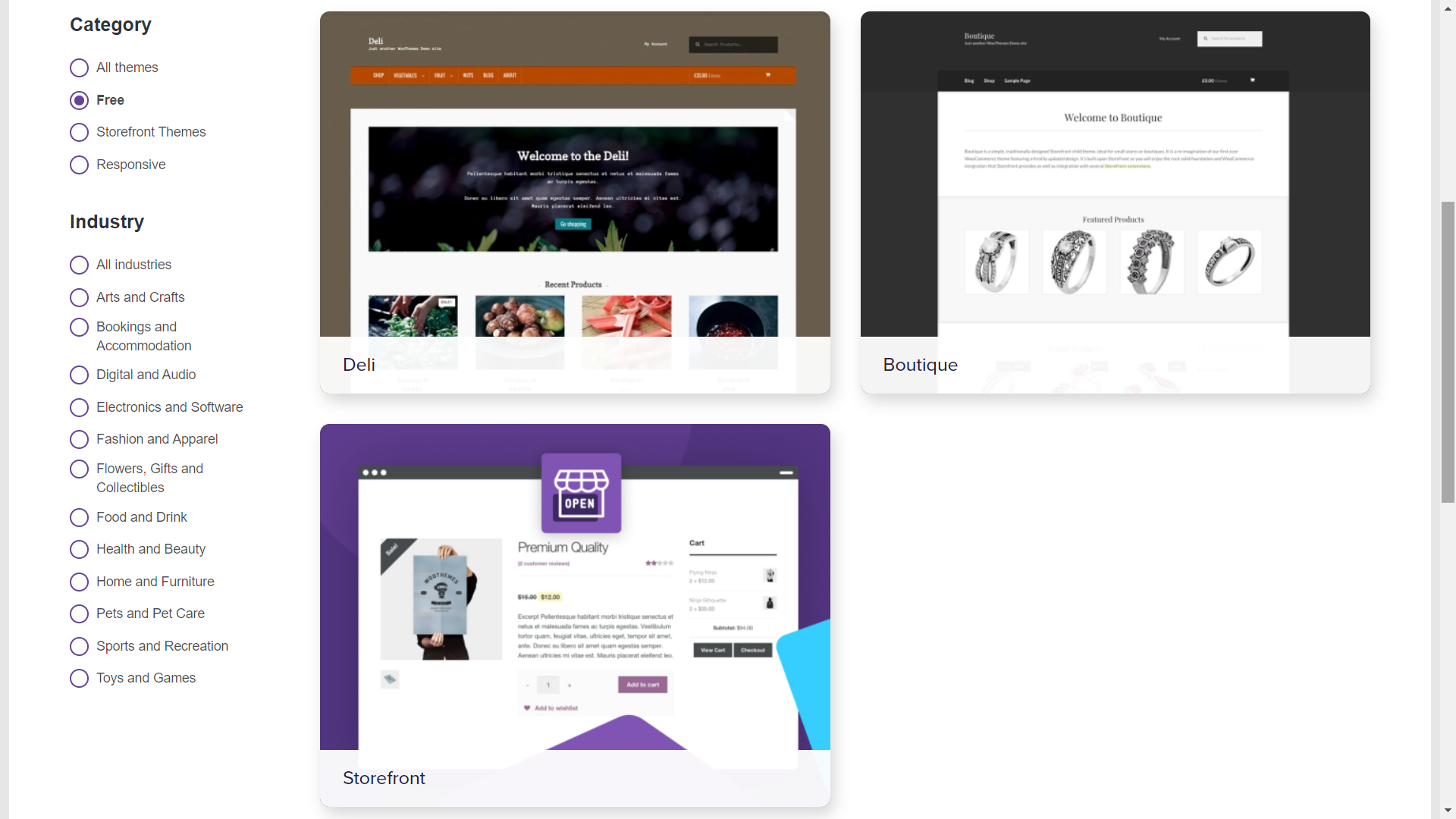 The other 43 designs are more professional and attractive, although we wouldn't say they are the best-looking WordPress themes in existence. It's clear that WooCommerce favored functionality and ease of use when making these themes, which isn't necessarily a bad thing.
Just keep in mind that only 36 of the themes are fully mobile responsive out-of-the-box. So, if you're targeting a mobile market, you should seek them out.
As WooCommerce is made for the WordPress platform, you can find thousands of WooCommerce-compatible third-party themes and plugins. This can greatly improve the look-and-feel as well as the customizability of your online store. Not to mention provide you with increased functionality and integrations with other popular platforms.
Magento
If you want to build a Magento store, the good news is that there are also out-of-the-box themes for you. However, the bad news is that prospective store owners only have four options through the official Adobe marketplace.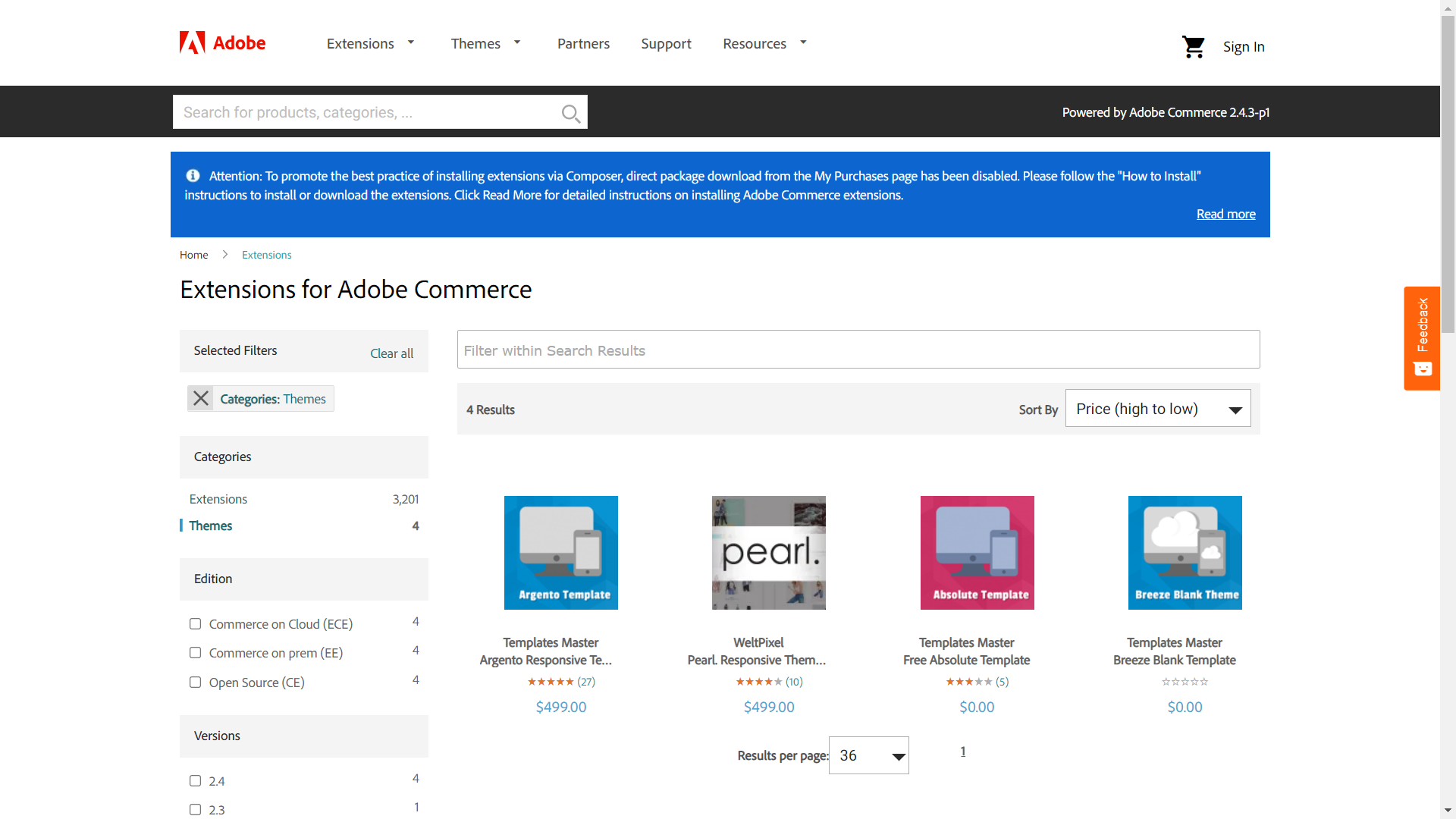 Two of the four themes are free, however, they are similar to Storefront in that they are a blank framework that you can use for constructing your own eCommerce platform from scratch.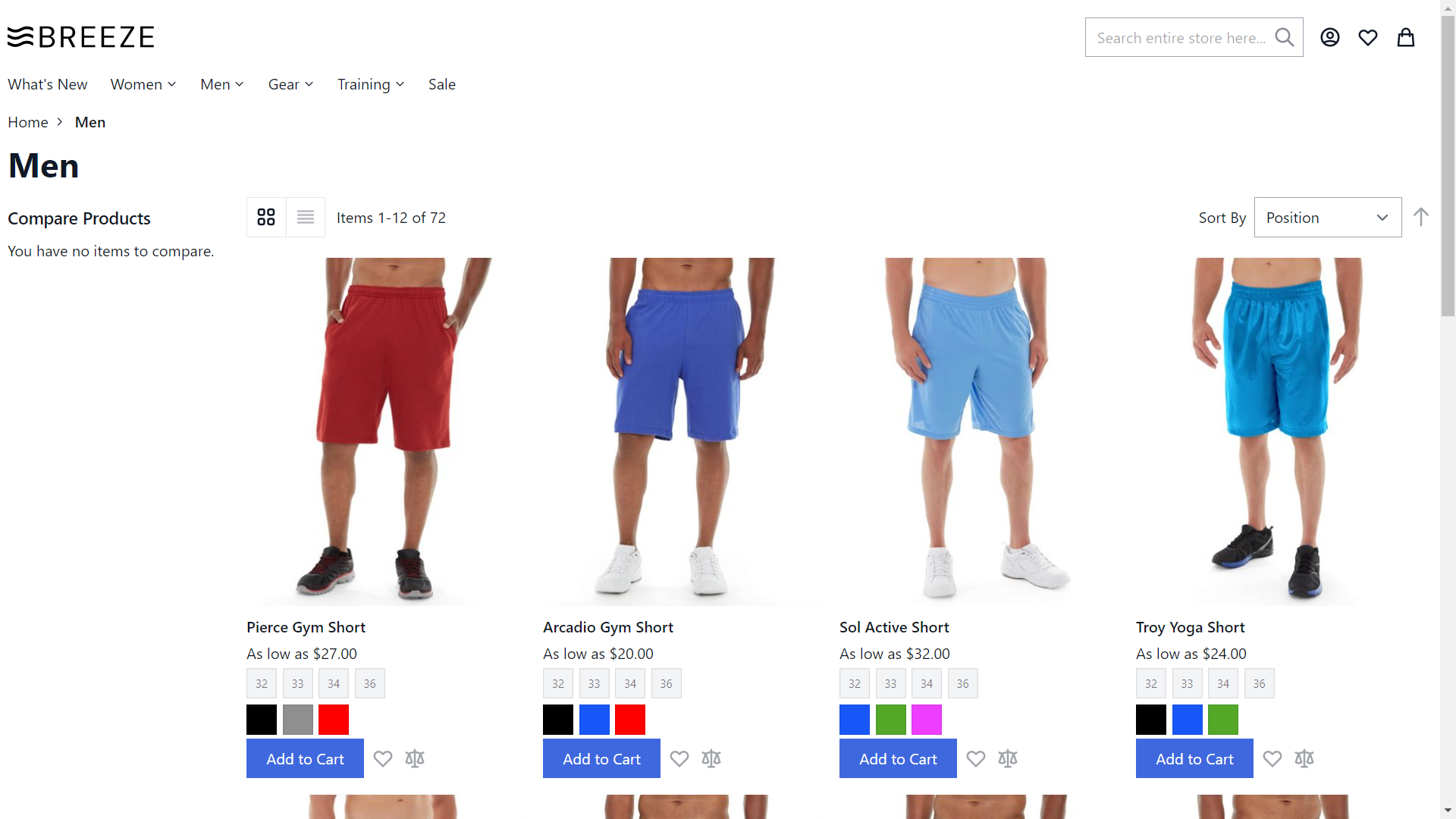 The two premium themes, however, are developed by renowned Magento theme developers. They come in various pre-designed templates that feel professionally made and well-thought-out. However, the downside is that they cost $499 each.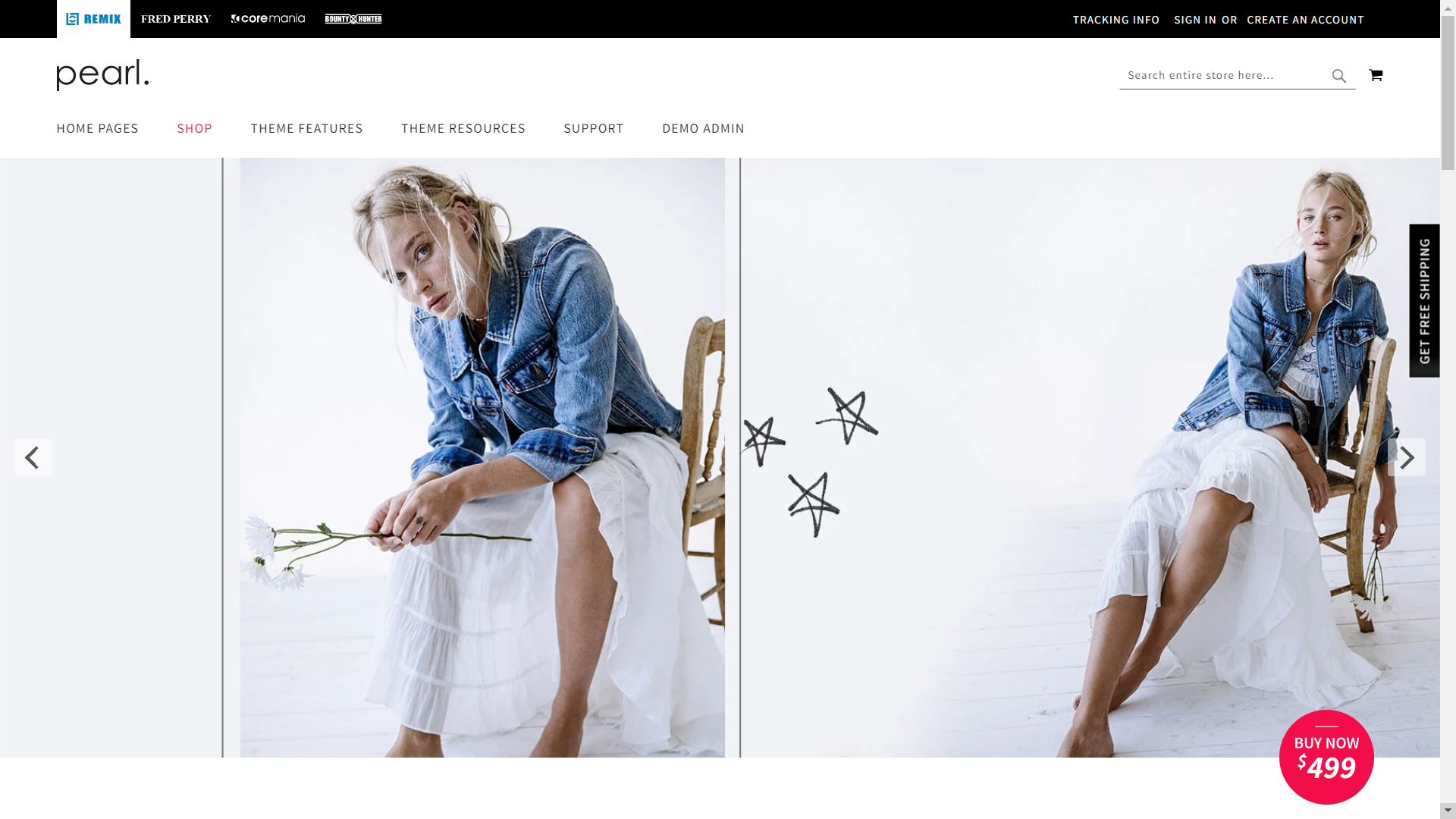 That being said, these premium themes usually come with a huge number of built-in extensions, layout variations, customization options, and more.
Magento also used to be one of the most popular eCommerce platforms along with WooCommerce. There is still an active community around it as well as many third-party developers that make both free and premium Magento themes that you can find on sites like Themeforest.
Verdict
So, once again, both WooCommerce and Magento have solid options when it comes to providing themes for online stores. However, WooCommerce will be the best eCommerce platform for the majority of store owners thanks to having a larger selection of both in-house and third-party themes. Not to mention the fact that they are more affordably priced overall.
WooCommerce vs Magento: Usability
As two very different platforms, the user experience of using WooCommerce vs Magento is almost at complete opposites. The skills and resources at your disposal will play a key role in whether either is suitable for you.
WooCommerce
Getting started with WooCommerce is extremely straightforward, especially for existing WordPress users. You can install the WooCommerce plugin and all of its free or premium extensions just like any other WordPress plugin with just a few clicks.
From there, users can use the plugin's visual interface to configure and set up their store from within the WP admin dashboard. A convenient setup wizard will also guide you through the most important initial stages of setting up a WooCommerce store.
Advanced features can be installed via extensions on a one-by-one basis, so online store owners won't be overwhelmed with a huge number of features and content right from the get-go.
The same, beginner-friendly UI will be used for general, ongoing store management.
Sure, if you've never used WordPress, it will be slightly trickier to learn the CMS and WooCommerce at the same time. However, even skilling up in WordPress is a breeze as you don't need any professional development or design experience.
Almost any web hosting provider today offers easy, one-click WordPress installation with automatic updates, so you'll have very little to worry about from a technical standpoint.
What's more, WooCommerce is compatible with a huge number of third-party plugins and themes. So, you won't face many headaches integrating it with your existing e-commerce site. You can even use popular page builders, like Elementor or Divi, for full control over the look-and-feel of your site.
In short, WooCommerce was made with complete beginners in mind as well as businesses of all sizes. For most, it should be a relative breeze to create a full-fledged online business using WooCommerce.
Magento
On the other hand, Magento has always been more focused on web development professionals and large to enterprise-sized retail businesses. To use Magento open source, for example, you'll need to set up a local hosting and development environment, install the Magento packages, and have decent development skills and experience to build your online store.
On the other end of the spectrum, Magento Commerce is an enterprise-grade eCommerce solution. It's not only focused on the eCommerce side of running a business but is a complete business platform, including things like business intelligence.
Sure, the Magento Commerce platform is an all-in-one solution that comes with hosting, CMS integration, staging environments, testing tools, automatic backups, DDoS and WAF Protection, and even image optimization. In a way, you pay for access to an all-in-one, scalable, and hugely powerful eCommerce business infrastructure.
However, you will still need a dedicated professional developer or development team with experience in managing large-scale enterprise applications.
Verdict
There's little doubt that building, launching, and hosting a WooCommerce site will be much easier to do for the average person or SMB. On the other hand, you will face a steep learning curve getting to grips with Magento's developer-oriented platform.
We have to give this round to WooCommerce thanks to its beginner-friendly nature and how easy it is to manage your store straight from the WordPress dashboard. However, keep in mind that, if you plan on running a large-scale, complex corporation or enterprise, Magento is tailor-made for this purpose. It may be the better option, as long as you have the expertise and resources to manage it.
WooCommerce vs Magento: Extensions & Plugins
WooCommerce
The official WooCommerce extensions store contains over 755 free and premium extensions. These cover pretty much anything you can think of when building an eCommerce platform, from marketing to payments to merchandising to customer service.
For example, you can directly integrate your WooCommerce with MailChimp for email marketing, add alternative payment methods like afterpay, or list your products directly on Google result pages.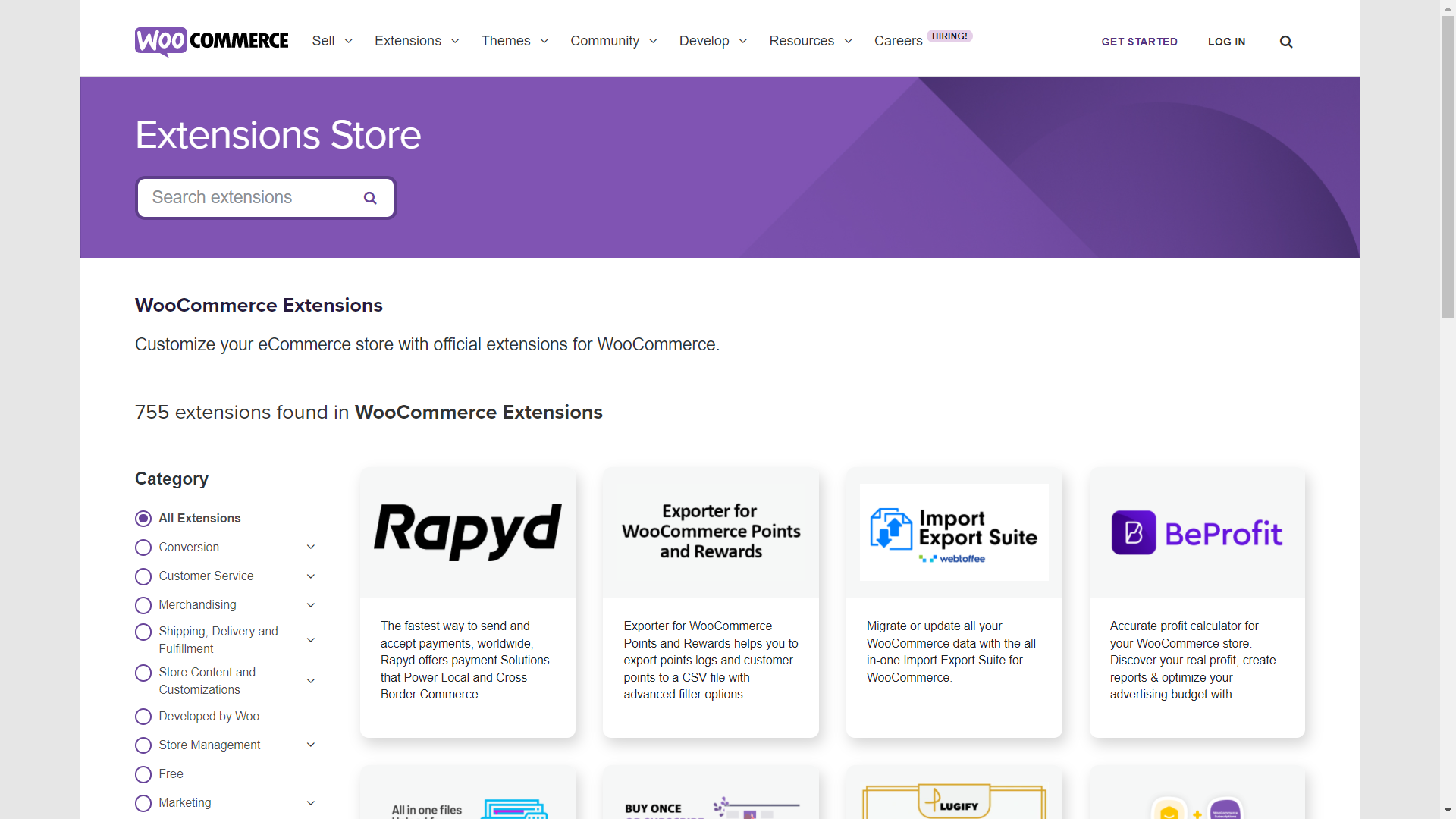 There are 41 free extensions, such as JetPack CRM, PayPal, Hubspot, and WooCommerce payments. The cost of using any of the hundreds of other extensions varies greatly, although it's typically less than $100/year. Some also follow freemium pricing models
While it's great to have such an amazing selection of easy-to-install-and-use extensions, there is one big con. There are so many individual features you might want to add to your store, such as bundled products, Google listings, gift cards, product add-ons, etc. that it could quickly spiral out of control budget-wise.
We would recommend at least starting with the WooCommerce Essentials bundle which comes with many important extensions for just $69/year.
Of course, you always have to keep in mind that as the most popular eCommerce platform for WordPress, there are tens of thousands of third-party plugins that you can use to add more functionality or design options to your WordPress site, and by extension, WooCommerce.
Magento
Despite its switch to Adobe, there is still an official plugin marketplace for Magento stores. And, it's still a huge and active resource with over 3,000 options to choose from, both free and paid.
The selection has more options for business ERP-type solutions as well as extensions for accounting, taxes, CRM fraud, and more. For the premium, hosted version of Magento, these extensions are just as easy to install as plugins, with just a few clicks.
In general, the extensions are really high quality, having been vetted by Adobe.
Unfortunately, however, if you use the open-source, local Magento, you'll need to look for third-party libraries developed by the Magento community and install them manually. This is a much less user-friendly approach and may not be suitable for most beginners.
The robust extension system includes a huge number of free extensions, many more than WooCommerce. However, some extensions can be incredibly pricey, costing up to $15,000.
Verdict
So, who wins between WooCommerce vs Magento when it comes to extensions? We'd have to call this one a draw.
Magento has a more extensive library of extensions that can support your Magento store as well as your business as a whole. However, they are only really accessible to Magento Commerce users.
On the other hand, WooCommerce extensions are very easy to install and use on your WordPress website. And, while there are fewer free options, the premium extensions are more affordably priced.
WooCommerce vs Magento: Customer Support
Whether you use Magento, WooCommerce, or any other eCommerce platforms, customer support is incredibly important to quickly resolve issues concerning your online business, whether they are technical or financial.
WooCommerce
As it started off as an open-source e-commerce platform, WooCommerce was always big on community and documentation. To this day, it's still very well documented, both for less technical users and developers.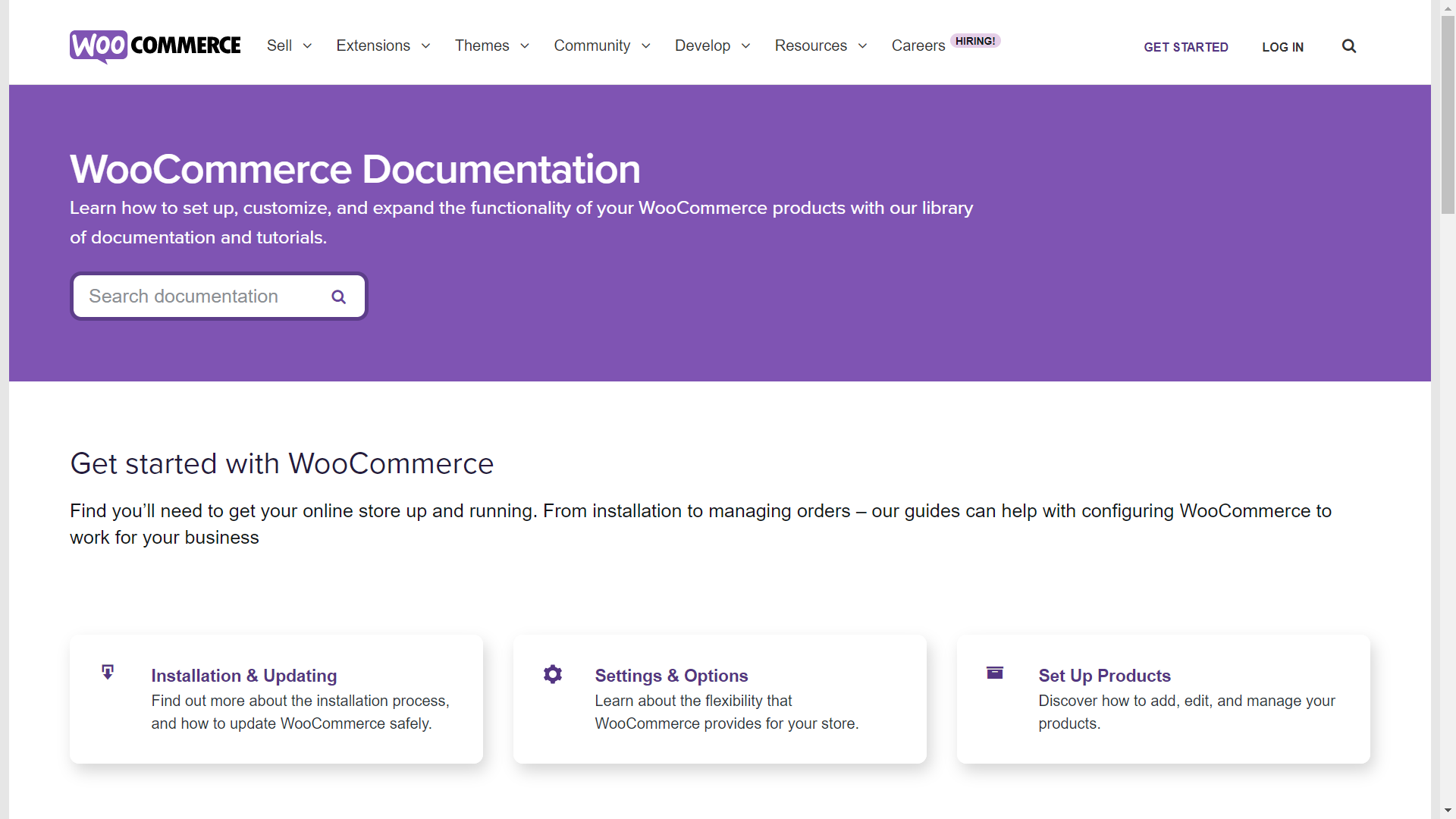 Even individual extensions are very well documented and supported. There are also plenty of user guides and tutorials to help you get started with WordPress, WooCommerce, and how to use various aspects of the WooCommerce platform.
In terms of one-on-one technical support, WooCommerce has a dedicated support team for their paid products with support being provided via a ticketing system.
Magento
First of all, there is a huge number of official resources that help you solve nearly any issue or learn any skill relevant to your Magento website. Webinars, info sheets, user guides, tech docs, forums, you name it. There are even live and online events where you can get incredible insights into the platform and its future.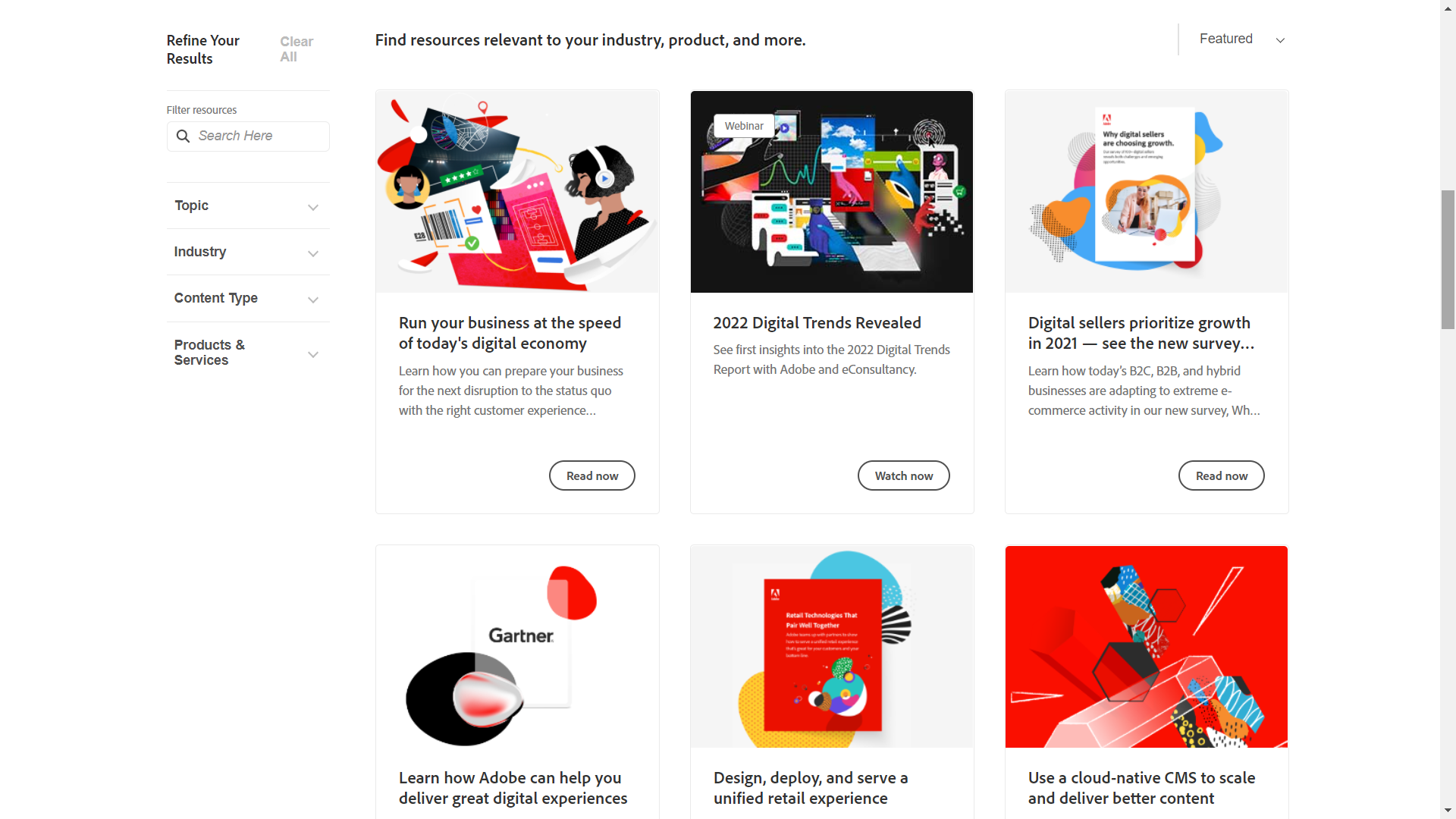 Premium, one-on-one support is available via email, phone, or a ticketing system if you use the Commerce or Enterprise edition. However, the Magento ecosystem is quite complex and some issues will require a professional developer.
As you'd expect, the Magento community version doesn't come with any official support service. However, there is a very large and active community around it and there is plenty of support available in the form of forums and documentation.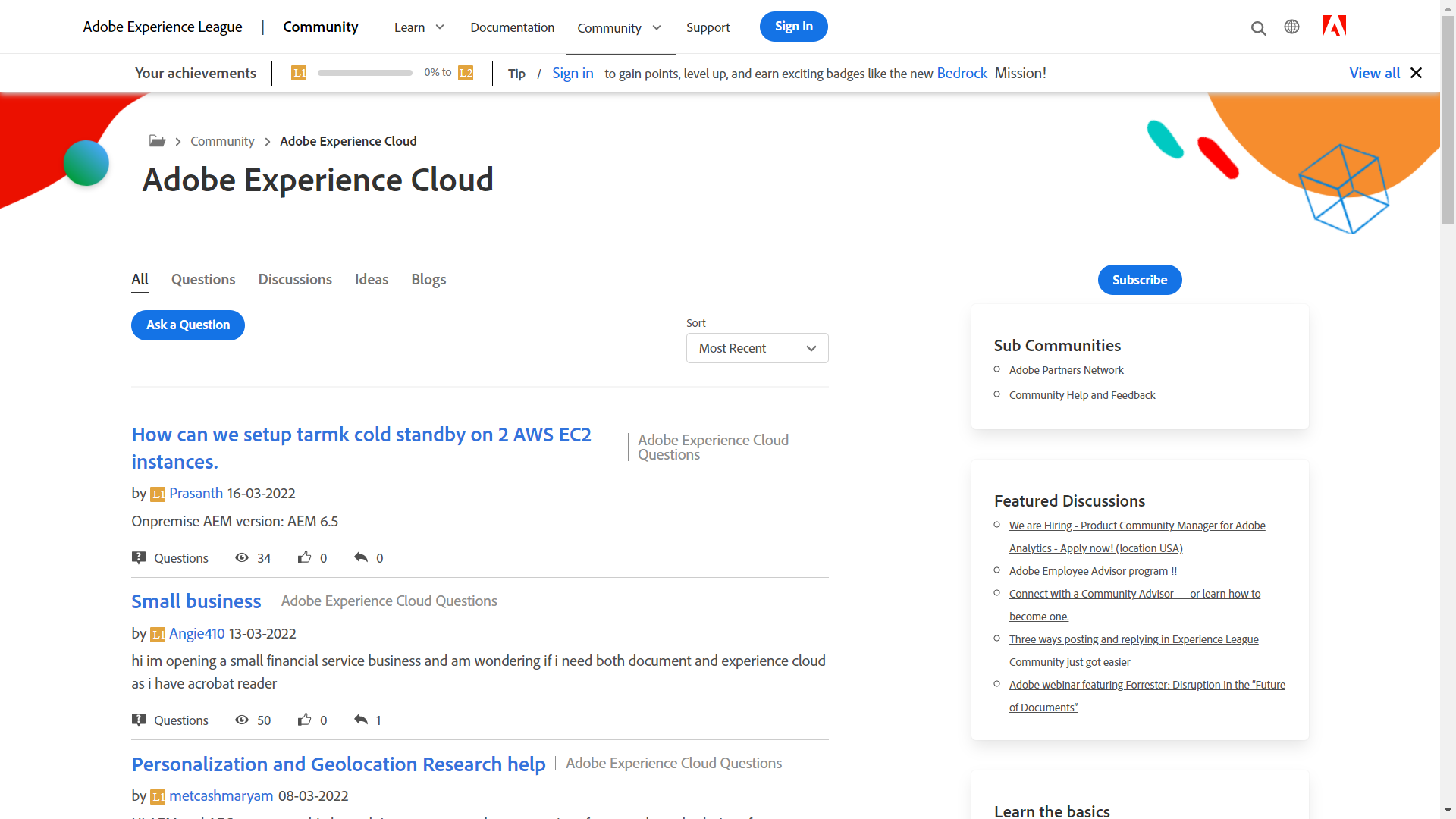 Verdict
This round of WooCommerce vs Magento is almost too close to call, but we have to give it to Magento. It's hard to imagine a more extensive collection of online resources, even among the best e-commerce platform contenders. While there's by no means anything wrong with WooCommerce's support, it's just that Magento offers above-and-beyond technical support for the entire system.
WooCommerce vs Magento: Marketing & SEO
In such a saturated online market, ranking high on search engines is key to the success of your eCommerce store. So, it's important that your eCommerce platform of choice enables you to grow your traffic and rank highly on search engines.
For both Magento and WooCommerce, the majority of the SEO and marketing capabilities come in the form of extensions. WooCommerce features over 2000 conversion and marketing-oriented extensions.
This includes capabilities such as customer reviews, advertising & promotions, email marketing, coupons and discounts, etc.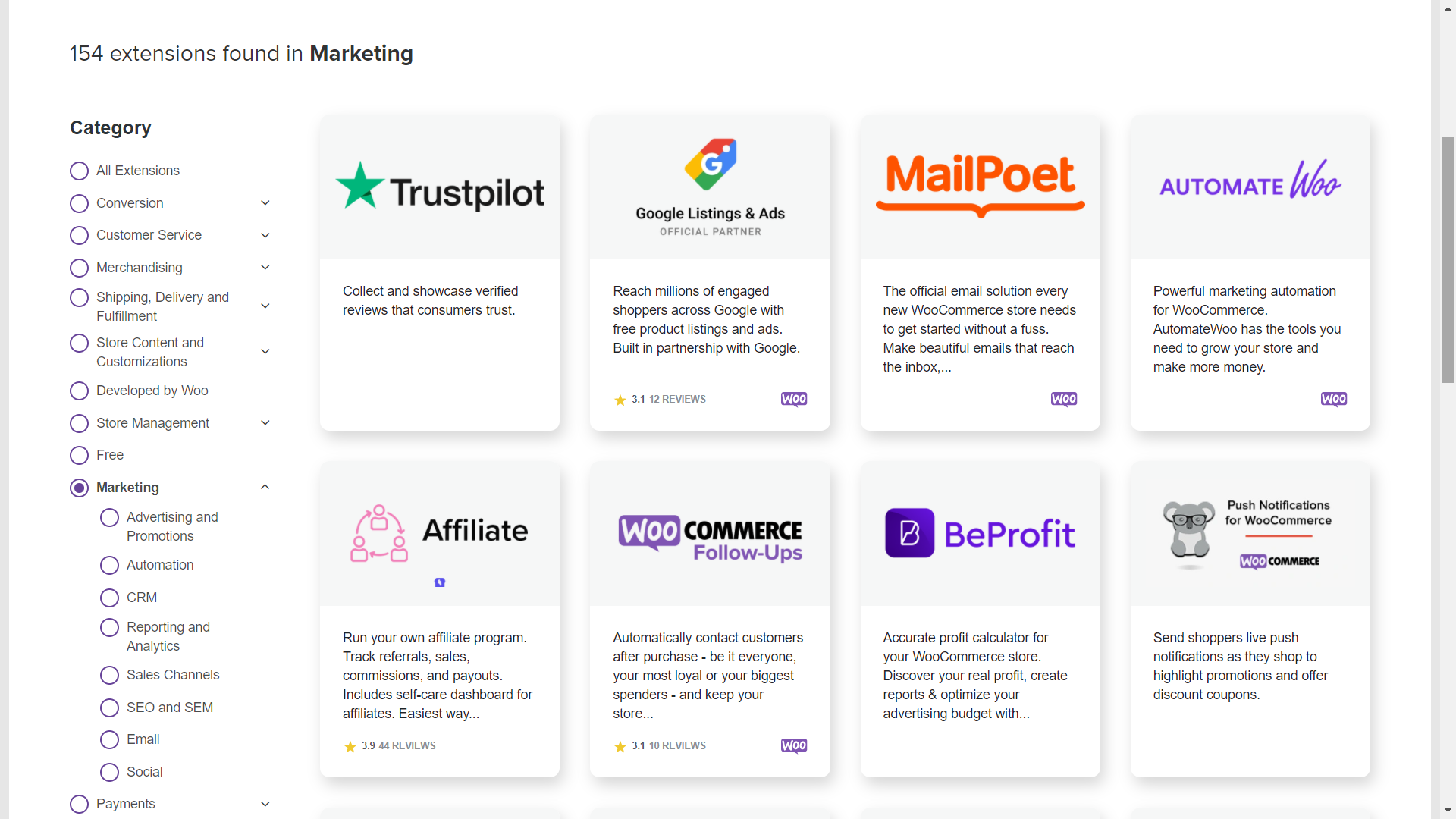 Of course, as WooCommerce runs on the WordPress platform, it will be easy to run a strong content marketing blog alongside your eCommerce store.
When it comes to advertising, marketing, and SEO capabilities, Magento Enterprise features more of these capabilities baked in. It also guides you through setting up campaigns with a Marketing Menu for managing promotions, communications, user-generated content, blog content, etc.
However, there are still a huge number of marketing and SEO-related extensions that offer more advanced or specific marketing capabilities.
WooCommerce vs Magento: The Final Verdict
If you've been paying attention, then you know that there is no simple answer to the question: WooCommerce vs Magento.
Which one is best for you depends largely on your goals, needs, budget, business type, and technical experience.
WooCommerce is a beginner-friendly and relatively cost-effective option. It's scalable enough to support SMBs and some larger online retailers, although it's not meant to cater to the needs of complex, large-scale enterprises. If you already use WordPress, then it will be a breeze to use and you need zero technical know-how or expertise to launch WooCommerce platforms.
On the other hand, Magento Community is aimed at developers and those experienced in building their own eCommerce platforms pretty much from scratch. Magento Commerce/Enterprise is aimed at large-scale businesses and includes some business ERP capabilities. However, for the majority of users, the high Magento pricing for the premium platform will not be feasible.
So, as you can see, the WooCommerce vs Magento battle comes down to what your needs are. However, we'd have to say that WooCommerce is probably the more accessible option for the vast majority of eCommerce hopefuls.